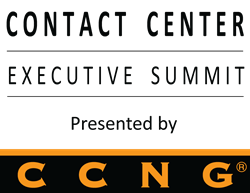 Fort Worth, Texas (PRWEB) August 21, 2013
CCNG International Inc. is pleased to host the 2013 Contact Center Executive Summit in Arlington, Texas on September 23rd and 24th. The annual Summit brings 50 contact center and customer care senior level managers together for a 2-day event. This year's thought leadership content is focused on "Managing the Customer Experience," keys to success, perspectives and experiences.
This year's Contact Center Executive Summit will highlight presentation and perspectives from successful executives including:
o JP Morgan Chase
o McKesson Patient Relationship Solutions
o Teleflora
o New York Life Insurance
o Think Finance
o Augsberg Fortress
o DigiCert Inc.
o VSP Vision Care
o And more…
"We are excited this year to have many new speakers and so much executive level experience together," says CCNG President and CEO, David Hadobas. "It will be a fantastic and unique opportunity for us all."
Past attendees and speakers offer some insights to this valuable event:
"CCNG Summits enable participants to share ideas and best practices in an intimate setting. The speakers are knowledgeable, the topics are relevant and the atmosphere is collaborative." - Leslie Brooks, Director, Kroger Support Center, The Kroger Company
"The Executive Summit offers senior leaders in Contact Centers of every vertical an opportunity to have real-life discussions about strategy and challenges we are all facing in today's marketplace. It is imperative to stay on top of, if not ahead, the opportunities for Contact Centers now and in the future - The executive Summit is the perfect forum for this!" - Eileen J. May, Senior Vice President, Operations, Publicis Touchpoint Solutions, Inc.
"From staffing & recruiting strategies, QA, Net Promoter, VOC, Performance Metrics, KPI score cards, technology, and moral ideas...... there is absolute value in attending the CCNG Executive Summit. Simply bring your list of challenges and you will receive credible answers." -Clint Britt, VP, Member Experience, AAA Colorado
"The CCNG Executive Summit is very different from other Professional Conferences in that it is designed to maximize the attendees' time with other Contact Center Professionals dealing with similar issues and challenges to your own. The majority of the Executive Summit format is focused on hearing from other Contact Center executives, to share and discuss case studies and our own best practices. My personal learning and professional network seeded at the Executive Summit have extended well beyond the two day time commitment made to attend the conference. The experiences I've had at the CCNG Executive Summits have been invaluable" - Matt Woody, Vice President, Consumer Contact Center - Central Operations, Fifth Third Bancorp
"The CCNG Executive Summit is a great opportunity and venue to meet with industry peers and industry sponsors to discuss hot topics. I always walk away with best practices that others have shared and can leverage within my organization. " - Lynn A. O'Neill, Corporate Vice President, Service Organization, New York Life Insurance Company
"CCNG's Contact Center Executive Summit is a "must-attend" event for anyone who manages a contact center. This two day event contains valuable information on new call center processes and technologies, as well as Best Practices sharing from successful Contact Center leaders." - Candace Kothmann, Call Center Director, Texas Workforce Commission
For details on how to attend or present in future CCNG executive or mid-level management events, contact Michelle Porterfield, mporterfield(at)CCNG(dot)com.
View program details at – http://www.ExecSummit.com
View upcoming and past speaker content at – http://www.CCNGMemberWebcasts.org
CCNG International Inc.
Founded in 1992, CCNG is a member Professional Peer Network (PPN) for contact center and customer care executives, management and leaders. Our mission is to connect colleagues throughout the industry and spread success. The CCNG Network members share best practice insights and experience with peers from top contact center organizations throughout the industry.
Benefits of Joining the CCNG Network:
o Build and expand your network of valuable professional relationships with contact center leaders and award-winning organizations throughout the industry.
o Leverage the knowledge of an industry-wide network of experts and peers.
o Showcase top performing people and programs to build industry recognition and support operational excellence within your organization.
o Explore new ideas. Build more effective programs, raise performance, and reduce risk throughout your organization.
CCNG offers events, programs and resources to all levels of contact center, customer care and customer experience professionals. This is how good contact center organizations continue to get better. For more information about CCNG, please visit http://www.ccng.com. "Like" us on Facebook and Google+, follow us on Twitter.
# # #