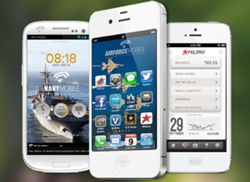 New York, NY (PRWEB) August 21, 2013
Defense Mobile Corp is thrilled to announce that Philip Prouty, co-founder of Simple Mobile, has joined its executive team. Phil's telecommunications background and distribution network makes him a priceless addition to the Defense Mobile team, where he will act as Executive Director in charge of Operations, Management, and Distribution.
About Philip Prouty
Philip Prouty found his success, creating and leading several diverse companies within the telecommunications sector. Prouty built out national and international companies, varying from point of sale distribution networks, payment processing services, and one of the fastest growing MVNO's in U.S history to boot.
Prouty began his entrepreneurial career when he co-founded the Debisys-Emida network in 1995, which he grew for the next decade, and now distributes wireless products and services to over 100,000 locations throughout the country. Phil sits as the Chairman and CEO of ProutyCo, a privately held company he launched in 2005, which provides domestic and international expertise in the fields of payment processing, fund movement, merchant services, open and closed loop debit cards, and wireless communication. ProutyCo now offers its products and services in over 50 countries worldwide, with annual revenues exceeding US$ 1 billion. Most recently, Prouty co-founded Simple Mobile, a T-Mobile partnered MVNO, which used ProutyCo to accelerate growth to over 1mm subscribers in less than 24 months before being sold to Carlos Slim's America Movil in 2012.
About Defense Mobile Corp
Defense Mobile Corp (DMC) is currently preparing to launch a new nationwide 4G mobile service and military affinity platform to active duty military, veterans, and their families through the brands ArmyMobile, NavyMobile, AirForceMobile, and MarinesMobile.
DMC will offer a mobile banking, payments, and rewards platform that will enable customers to get exclusive discounts and cash back on everyday purchases. Defense Mobile is committed to helping military families save more, get more, and do more and will not only hire veterans but will also give 10% of corporate profits to military charities.
Contact
To learn more about Defense Mobile Corp, please contact
Tracy Troy, Corporate Communications
Defense Mobile Corp
260 Madison, 8th floor
New York, NY 10016
Phone: 888-370-8747
Email: info(at)defensemobilecorp(dot)com
http://www.defensemobilecorp.com