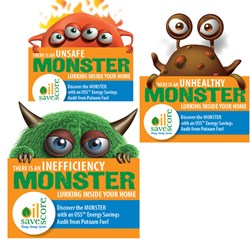 "It's never too early to watch out for the dangers in a home and by bringing these monsters to light - families in Southern, NH homes will find that there are more ways to raise their energy for family moments." - John Miles
Goffstown, NH (PRWEB) August 21, 2013
At some point in a child's life, they fall in love with a monster. Usually, it's small, hairy and either eats cookies on TV or cuddles with them as they go to sleep at night. Lately Putnam fuel in Goffstown, NH became fascinated with everything about monsters because they found 3 of them that are in every family's home that aren't so friendly or cuddly and they shared what they're doing about it.
In an effort to raise awareness of home safety, energy efficiency and health - the team at Putnam Fuel has developed their new "Monsters in the Home" campaign. According to company President John Miles, "It's never too early to watch out for the dangers in a home and by bringing these monsters to light - families in Southern, NH homes will find that there are more ways to raise their energy for family moments. Becoming aware of and then getting rid of these 3 monsters is an ideal place to start!" Putnam Fuel co-owner, Betty Martel offered this when asked what weapons they would use in their fight against monsters, "The answer is really twofold. First, we've created our Oil Save Score Energy Savings Audit that allows us to carefully inspect our client's entire home for these monsters. Second, we're going to work hard to raise awareness about these 3 monsters and the problems and risks they can post for families in New Hampshire. You can't fight a monster if you aren't aware of it's presence."
The team at Putnam Fuel invites their community to watch out soon for more educational resources directed at reducing these safety, health and budget busting issues in the home. They've promised to provide ongoing insights and tips whether you're a customer of theirs or not. Additionally, coming this October, Putnam is planning to host a community event centered around fun for families, moms and kids - all developed to raise awareness of these growing areas of concern. They've noted that they'll be posting news of the event on the website at http://www.putnamfuel.com and also via area advertising and news efforts. Recently Putnam announced that a key part of their public awareness campaign includes Water Country Gift passes and Golf outing prizes to those who qualify and join in the fight.
If you have questions or would like to get in touch with Putnam Fuel to learn about this monster campaign, or the program they've built to fight it called "The Oil Save Score" program, please call Putnam Fuel at 603.497.4897.
About Putnam Fuel:
Putnam Fuel is residential oil delivery company that also offers a myriad of other services throughout Southern, New Hampshire(NH). It's focus has been on the growing need for home efficiency, safety and health and creating programs to help families solve those types of problems while saving money using the Oil Save Score™ Energy Savings Program. It has specialized in heating and A/C system service and maintenance and has enjoyed serving a growing region of Southern, NH since 1937. The firm's current focus is on helping families raise their energy and continues to deliver their message of giving and energy throughout the year as they offer automatic fuel delivery and their Oil Save Score™ Energy Savings System.
For questions or insights, please contact John Miles, President.
Phone: 603497.4897
Or visit the Putnam Fuel website at http://www.putnamfuel.com
Or to view a full list of towns and the service area for Oil Delivery, Service and the Oil Save Score™ program, click service area. http://www.putnamfuel.com/products-services/