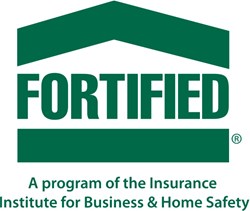 We can effectively break this cycle of devastation by significantly improving the hurricane resistance of residential and commercial property.
Tampa, Florida (PRWEB) August 20, 2013
The Insurance Institute for Business & Home Safety's (IBHS) FORTIFIED Home programs and standards are recommended in the federal Hurricane Sandy Rebuilding Task Force's Rebuilding Strategy released by the U.S. Department of Housing and Urban Development (HUD) yesterday. The strategy includes 69 recommendations from the Task Force, which has been meeting since last year to create a plan for strengthening communities to help them better withstand and recover from future storms.
Recommendation 31 in the Strategy encourages and promotes the use of IBHS' voluntary FORTIFIED retrofit and new construction standards; these standards provide guidelines designed to create stronger, safer houses. The FORTIFIED programs also include comprehensive design guides and third-party validation, intended to reliably increase a home's resistance to natural hazards specific to that local area.
"IBHS could not be more pleased that the Hurricane Sandy Rebuilding Task Force is recommending that residents harden their homes against hurricanes by using both the new construction and retrofit standards in IBHS' FORTIFIED programs. Our standards are informed by the building science we conduct at the unique IBHS Research Center, where our engineers work to identify stronger, safer construction practices that will help save lives and reduce property damage related to natural and man-made catastrophes," Julie Rochman, president and CEO of IBHS, explained.
The Institute uses results obtained from realistic, full-scale research tests conducted at the IBHS Research Center to develop clear guidelines for the design, construction, repair and retrofitting of residential and commercial structures, so they can better withstand the effects of high winds and wind-driven rain, in addition to other hazards, such as wildfire ember storms and hailstorms. In fact, FEMA used IBHS standards as the basis for its own wind hazard mitigation program. More information about FORTIFIED standards can be found at http://disastersafety.org/fortified/home.
Recommendation 31 of the Rebuilding Strategy also jointly recommended the Department of Homeland Security's (DHS) new Resilience STAR development standards, which is DHS' new voluntary residential designation program for strengthening homes against natural disasters based on IBHS' FORTIFIED programs. IBHS is planning to begin initial pilot programs with DHS on the Resilience STAR program during the coming months.
IBHS further commends the Task Force's additional resiliency recommendations, including those that encourage the enactment and enforcement of modern building codes, elevating structures where they are vulnerable to flooding, planning infrastructure to better withstand current and future risks, and engaging the public, especially vulnerable populations, on issues such as resilience and risk.
"We now are in the heart of the 2013 Atlantic hurricane season, and people who live in coastal communities once again hold our collective breath, hoping there won't be any storms that make landfall," notes Rochman. "Unfortunately, relying on good fortune is a dangerous loss control strategy. Instead, we must stop looking past very real risks, and – even worse – rebuilding the same way, in the same places, over and over again after disaster strikes. We can effectively break this cycle of devastation by significantly improving the hurricane resistance of residential and commercial property. Those who suffered because of Sandy and other storms need to know what steps to take to minimize the chances that they will become victims again. We commend HUD and those who wrote this report for taking steps to make sure that they do."
###
About the IBHS
IBHS is an independent, nonprofit, scientific and educational organization supported by the property insurance industry. The organization works to reduce the social and economic effects of natural disasters and other risks to residential and commercial property by conducting research and advocating improved construction, maintenance and preparation practices.