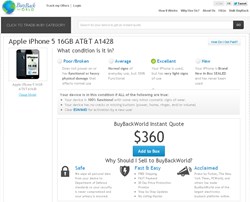 Buyback prices for used iPhones typically stabilize several weeks after the latest iPhone launch, but never attain the same value they had one month prior to the latest release.
(PRWEB) August 21, 2013
As Apple's flagship iPhone product launch event edges closer to its September release date, competition amongst electronics trade-in websites to buy old iPhones heats up. These websites offer cash for consumers that sell used iPhones and cell phones. These websites display instant price quotes and offer shipping labels at no cost to consumers..
The rumors for the new iPhone 5S and iPhone 5C are swirling and so far we've heard talks of a faster processor, an upgraded camera with a dual-LED flash, an embedded biometric fingerprint scanner and even the possibility of a third color option in gold. These new features will certainly entice consumers to upgrade even if they recently purchased an iPhone 5. Consumers leverage electronics buyback websites to help offset the cost of upgrading to the newest iPhone, whether it be a 5S or a 5C.
With so many options out there when it comes to electronics trade-in websites, the logical question is "How much can I sell my iPhone for?" and "Where should I sell my iPhone?" We researched the top electronics buyback companies and compiled some analysis to make the trade-in process as fast and seamless as possible. Sellers should lock in their price quote as soon as possible. The sooner the quote is locked in the higher the quote will be as electronics and cell phones lose value every day. iPhone Buyback prices for iPhones trend downward closer to the actual release date and may drop even lower after the actual release date. Buyback prices for used iPhones typically stabilize several weeks after the latest iPhone launch, but never attain the same value they had one month prior to the latest release.
To start, we only evaluated electronic buyback companies with a proven track record of providing excellent customer service, a reputation for honoring their advertised quotes and a history of fast payment turnaround times. This means you might find another company online that promises to pay you a little extra, but chances are they just might not be able to deliver that actual value in the end.
By using the services we are reviewing here to sell an old iPhone, a customer can offset the cost of upgrading to the new iPhone 5S. Selling an iPhone 4, iPhone 4S, or iPhone 5 can lead to significant extra cash as most of the buyback companies pay at least $100 for these older devices, even if they are broken.
The services reviewed are (in alphabetical order): BuyBackWorld, BuyMyTronics, Gazelle and NextWorth. All quotes were for iPhones which were 100% functional in good used condition with normal signs of wear.
PAYOUT: BuyBackWorld offered the most cash across the board and was consistently the highest paying company out there. By contrast, Gazelle was consistently the lowest paying company out there so it's possible they make it up in volume by reaching more consumers through their use of TV advertising. Seller Be Warned – just because you see something on TV doesn't mean it is the best option for you. Taking some time to research the the highest buyback prices could earn you an average of $30.83 extra by using the highest paying company BuyBackWorld.
SHIPPING: All of the companies we reviewed provide FREE Shipping, but BuyBackWorld and Gazelle go the extra mile by even offering Shipping Kits and shipping labels at no charge sent directly to a customer's front door.
QUOTE PROTECTION: Again, BuyBackWorld and Gazelle excel here as well, offering a 30 day price lock guarantee from the date the checkout is completed to the data it is received by the company. The one month timeframe is very generous and means that a consumer can sign up to send in an old device today and not send it in until the release of the Apple iPhone 5S in September. Pretty awesome.
THE BOTTOM LINE: It's hard to argue with the numbers and when you break it down, it seems like BuyBackWorld offers the best combination of payouts, quote protection and overall service. By offering the top payout across the board and providing the longest quote protection out there, BuyBackWorld makes it insanely easy to sell an old iPhone.
EXTRA, EXTRA! READ ALL ABOUT IT! While browsing through each website, we found that BuyBackWorld deserves another honorable mention for having the largest product catalog out there. While it wasn't much, receiving an extra $2 for an old Motorola Razr flip phone made it that much easier to choose BuyBackWorld as our recommendation for the premiere electronics buyback company on the web. Sell your iPhone the fast and easy way with BuyBackWorld today.