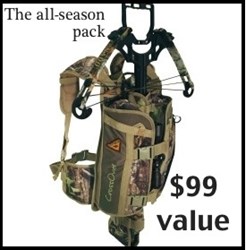 Exclusive TenPoint deals.
Nappanee, IN (PRWEB) August 20, 2013
It's time to find the best hunting gear! Crossbow hunting starts in a few weeks and there's loads of deals out there. Today's specials come from the midwest. One favorite crossbow shop is Borkholder Archery in large part because of its location in northern Indiana. Being the "Crossroads of America" makes it great for online shoppers who can get their items delivered within two days to most parts of the country. Of course, to residence in Michiana visiting the brick and mortar location between Milford and Nappanee allows you to pick the brain of Brian Hite the lead bow technician and archery enthusiast.
Buy the Titan Xtreme
Let's move on to what's really important, the great deals. A great entry level crossbow, the Titan Xtreme starting at $699.99 is same price as Bass Pro but Borkholder Archery offers in addition to the 3pk aluminum bolts, 6pk Easton Carbon Bolts valued at $39.99.
Buy the Vapor Crossbow
For experienced hunters who have already had a crossbow for a few years or for a first-timer who wants to get a head start, the TenPoint Vapor offers something a little more potent. The Vapor is a bow everyone envies. Its reduced weight and improved balance will help stamina during the hunt. Like all TenPoint crossbows, the Vapor comes with ACUdraw 50 which is an upgradeable option to ACUdraw for $100. The Vapor is priced at $1899 and $1999 respectively. Included from manufacturer is the cocking aid, 3-arrow quiver, 6pk carbon fiber bolts, noise dampening kit, TenPoint vehicle sticker, and owners instruction DVD. And exclusively from Borkholder Archery included with purchase of a TenPoint Vapor Crossbow is a GamePlan Crossover Pack valued at $99. It's an all-season crossbow pack to make your bow easy to carry during the hunt.
Have a great hunting adventure this year.
God bless.