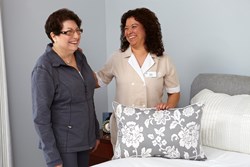 To attract and retain the best talent in the industry, Vi invests heavily in many professional development programs.
Chicago, Illinois (PRWEB) August 22, 2013
For the third consecutive year, Vi is a recipient of a number of prestigious national awards that recognize excellence in employee training and development. The awards were given by three organizations: Training Magazine, Chief Learning Officer Magazine and E-Learning! Magazine.
According to Judy Whitcomb, Vi's Vice President of Human Resources and Learning & Organization Development, just getting and hiring top tier employees is the start. Her team focuses on keeping those employees, and helping to develop long-term careers for them within the organization.
"To attract and retain the best talent in the industry, Vi invests heavily in many professional development programs, said Whitcomb. "We know that well-trained and engaged employees have a significant impact on the service and care our employees deliver. Vi's recognition as a leader in employee development is something we strive to maintain."
The award from Training Magazine marks the third year in a row Vi was honored as one of its "Top 125 Companies for Learning." Vi is ranked #75 on that list, up from #93 in 2012.
In addition, the recognition from Chief Learning Officer Magazine included the designation for Vi as part of their "Editor's Choice for Best Small Company for Learning" for the second year in a row.
Finally, E-Learning! Magazine selected Vi as a Top 100 organization for 2013. Vi has consistently ranked in the top 10 for the last several years.
As part of Vi's Human Resources training, all Vi employees take part in the online university E-Campus that provides employees with more than 1,000 courses and training resources from such high-caliber educational institutions such as Harvard Business Publishing. Whitcomb credits this program in addition to other ongoing training as a unique opportunity for employees.
"Our ongoing culture of learning provides a number of training opportunities for staff at all levels," Whitcomb said. "Whether it's tailored training for executives in the corporate office, or dining summits for Executive Chefs, Vi is committed to providing an exceptional work environment for employees to learn and grow. Our investments in training and development have resulted in high employee engagement as well Vi having low attrition rates."
About Vi
For more than 25 years, Vi has blurred the line between retirement and resort. Our continuing care retirement communities (CCRCs) provide refined environments, upscale living, service and amenities and the option for care should you need it. Founded in 1987, Vi currently operates 10 CCRCs nationwide.