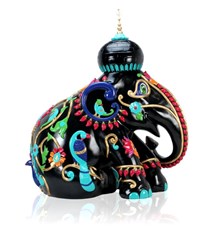 Dana Point, California (PRWEB) August 21, 2013
From August 29 through November 17, 2013, The Ritz-Carlton, Laguna Niguel showcases three life-size baby elephant sculptures and 14 smaller tribute elephants during Elephant Parade®: Welcome to America in Dana Point, a public art exhibit that connects acclaimed artists and celebrities with corporate and community leaders to attract awareness and support for the world's most majestic land mammals. The hand-painted life-size baby elephants on display at the resort were designed and painted by Holly Branson, Mira Gulati, and Nat Posilla.
Internationally, support has been tremendous and Dana Point provides a picture-perfect location for this powerful cause to launch in the United States. As an oceanfront destination dedicated to the preservation of our planet, Dana Point thinks beyond the boundaries of land and sea to raise awareness for the crusade of conservation across the globe.
About the Artists
Mira Gulati
Elephant Name: Mirari
Jewelry Designer Mira Gulati is a gemstone sensation traveling across the globe from India to join the exhibition. As the founder and lead designer of Mirari – a custom jeweler blending contemporary elegance with deep Indian heritage – Gulati bridges cultural barriers in her steadfast support of The Asian Elephant Foundation. Her personalized pieces are handcrafted with stones sourced from all corners of the world and the Elephant Parade sculpture will be a stunning showcase of her custom creations.
Holly Branson
Elephant name: Valentina the Elenaut (Valentina was the first female in space)
Elephants are known for their weight but this Elenaut is going weightless as Virgin Galactic's first Elenaut! The Elenaut is a symbol of dreams, exploration, and continually striving for new heights. Virgin was built on reaching for new challenges and dreams. Holly hopes Elenaut and all the other elephants will be part of a bright future for Virgin, space travel and human endeavor.
Nat Posilla
Elephant Name: Coconut
Nat Posilla was born in Nong Khai one of the small villages based along the Mekhong River in Northeastern Thailand. With an aptitude for art, Nat's first artistic experiences came with the chance to paint and repair temple murals. He went on to find work with galleries in Samui, Phuket and Bangkok where he specialized in commissioned portraits and reproductions of the "master artists" in oils. This technical experience and his own inner drive to create and reflect beauty became the core of an unconventional art education. This unusual background has produced a highly skilled, prolific, refreshingly confident and affirmative artist. Nat's paintings have been described as simultaneously traditional and modern. His monumental canvases have a dual effect on the viewer, one feels at once excited by their vigor and eased by their harmonious calm. Nat works from his garden studio in Chiang Mai Thailand where the natural light lends a rich intensity of color and tone to his hyper realistic contemporary natural paintings. Nat's studies have an explosive and unique quality of composition and color, each painting positively glows with its own energy.
About Elephant Parade
Elephant Parade was founded in 2006 by father and son team, Marc and Mike Spits. While on holiday in Thailand, Marc was introduced to a baby elephant named Mosha, who became the world's first elephant to be fitted with a prosthetic limb after stepping on a landmine.
"We've created a social enterprise built on a successful model of art, business and charity resulting in very tangible, timely preservation efforts," commented Mike Spits, co-founder of Elephant Parade. "If we don't take action now, the Asian Elephant could become extinct in just a few short decades."
To date, Elephant Parade has raised more than $5 million for Asian elephant conservation and approximately 8 million people worldwide have experienced the expositions. Click here to learn more about Elephant Parade.
About The Asian Elephant Foundation
Due to the degradation of habitat, illegal poachers hunting skins and ivory, and several other significant factors, over the last 100 years, the number of Asian elephants has declined by almost 90 percent. Today, there are only 35,000 Asian elephants left throughout Asia. In Thailand, there are now just 3,500 elephants left, of which only 1,500 live in the wild.
Proceeds from Elephant Parade are donated to The Asian Elephant Foundation (TAEF). This independent charity financially supports and actively monitors projects aimed at the survival and welfare of the Asian elephant. TAEF currently supports projects in six out of the 13 'range countries' where the Asian elephant has lived for centuries. Most of these projects are focused on supporting elephant hospitals and sanctuaries, developing solutions for the 'human-elephant conflict' and donating mobile elephant clinics to support local teams of specialized elephant doctors.
About The Ritz-Carlton, Laguna Niguel
The Ritz-Carlton, Laguna Niguel premiered as the first luxury resort along coastal Orange County in August 1984. Today, the resort is a re-imagined surfside retreat that awakens guests' senses with its unique ocean-front setting and remarkable service heritage. The resort is the premiere destination for travelers who desire a playful approach to Southern California luxury. The resort has been the recipient of many awards over the years, but is proud to boast earning AAA Five Diamond status for the 28th year, the longest in California. The resort offers many extraordinary luxury experiences including Raya, enoSTEAK, 180blũ, The Market Place, Bar Raya, The Spa and the Eco-Adventure Center. For more information or reservations call 800-241-3333, the hotel directly at 949-240-2000, a travel professional or visit the web site at ritzcarlton.com/lagunaniguel.
About The Ritz-Carlton Hotel Company, L.L.C.
The Ritz-Carlton Hotel Company, L.L.C. of Chevy Chase, Md., currently operates 80 hotels in the Americas, Europe, Asia, the Middle East, Africa, and the Caribbean. More than 30 hotel and residential projects are under development around the globe. The Ritz-Carlton is the only service company to have twice earned the prestigious Malcolm Baldrige National Quality Award which recognizes outstanding customer service. For more information, or reservations, contact a travel professional, call toll free in the U.S. 1-800-241-3333, or visit the company website at http://www.ritzcarlton.com. The Ritz-Carlton Hotel Company, L.L.C. is a wholly owned subsidiary of Marriott International, Inc.