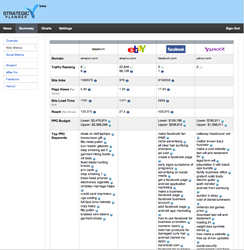 Companies can now compare PPC/SEO metrics alongside other web metrics such as Traffic ranking and web site performance
Montreal, Quebec (PRWEB) August 22, 2013
Strategic Planner, a brand new company focused on building business tools, today announced the addition of PPC and SEO metrics from iSpionage.com to their competitive tracker on StrategicPlanner.com. Designed for business owners, product and marketing managers, investors and business analysts, Strategic Planner is the only solution that allows companies to keep an active eye on all their competitors, the news of the industry and to stay on top of what's happening.
"PPC and SEO are important competitive metrics that companies should be tracking," said Michel Besner, President & CEO of Strategic Planner. "Our customers can now compare PPC/SEO metrics alongside other web metrics such as Traffic ranking and web site performance."
iSpionage.com provides competitive intelligence for search marketing professionals and agencies. The competitive tracker from Strategic Planner is still in beta and users are welcomed to sign-in and provide feedback – in order to make this the best tool available for competitive tracking.
Key Metrics that are captured from iSpionage.com include:

PPC Budget
Top PPC Keywords
Average Ad Position
Top PPC Competitors
Top SEO Keywords
Top Ads in Google
Strategic Planner is available immediately. To sign-up, please go to http://www.strategicplanner.com.
About Strategic Planner
Startup to mid-sized companies often struggle in creating compelling and credible information in key areas of their business, strategic or product plans. While there are many templates and tips and tricks out there, there are no tools to help build the content. Companies therefore try to raise funding, build products and go-to-market with incomplete or inaccurate business and product plans; increasing their risk of failure. Our mission is to provide companies a simple platform of tools that will help them to create better strategic, business and product plans. Strategic Planner is located in Montreal, Canada.
Strategic Planner and strategicplanner.com are trademarks of SP Tools Inc. All other trademarks are the property of their respective owners. All rights reserved.