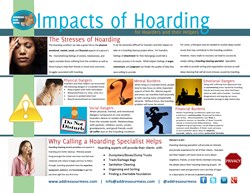 Address Our Mess delves into the details regarding the most common – and dangerous – stressors that stem from living in a hoarding situation.
Mount Laurel, New Jersey (PRWEB) August 30, 2013
Stress can stem from so many sources. A job, a relationship, children, or even current events in the news can cause an overwhelming amount of stress. Usually, people retreat to their homes, a typically comforting solace to unwind and work out stressors and problems in a healthy way. But what happens when a person's home, a place that is supposed to be their comfort zone is the main cause of their stress?
For those living amongst massive amounts of clutter this scenario is very real and very dangerous. While the general public is only beginning to learn about clutter cleaning and the hoarding condition and how debilitating it can be to friends and family members, the illness has been an issue boiling under the surface since the dawn of recorded history. People living with the condition often have nowhere to go to unwind and calm themselves over typical stressors because their place of peace has been overwhelmed with calamity and chaos of its own.
Address Our Mess, a clutter cleaning service provider with expert technicians in over twenty five states, have developed a recurring publication designed to help hoarders understand their own condition while their loved ones can find a fresh approach to helping them find success on their road to recovery. In the hoarding expert's latest entry, Impacts of Hoarding for Hoarders and their Helpers, Address Our Mess delves into the details regarding the most common – and dangerous – stressors that stem from living in a hoarding situation.
Amongst the vast amounts of questions about clutter cleaning and hoarding are answers that some are not prepared to face. Living amongst massive amounts of clutter can cause physical, emotional, mental, social, and financial troubles. Of these dangers, none are more detrimental than the other, as they all play a pivotal part in the downfall of a person struggling with the challenges of the condition.
Physical dangers include becoming trapped under fallen mounds of clutter and junk, either suffering trauma so severe that it causes instantaneous death or being trapped for days while starving. With some clutter cases, biohazard hoarding also overtakes a property. Exposure to feces, urine, and other bodily fluids can cause serious illness or even death depending on the severity of the pathogens found on the premises. Neglect of the property can also cause rodent, insect, or rabid animal infestation.
The mental and emotional burdens that pile up in a clutter hoarding situation can cause so much mental anguish that physical ailments can develop over time. Social anxieties also develop as hoarders become ashamed to allow anyone into their homes. This self-imposed isolation sends a person into an uncontrollable cycle that only causes more pain and stress.
The financial burdens are also very real. Clutter hoarders tend to allow their hoards to spill out into their properties or even onto neighboring properties. Combined with the fire hazards that could consume an entire neighborhood, property dwellers will find that fines and ordinances will pile up to no end. Failure to pay such fines can result in eviction and potential condemnation of a property.
The good news for clutter and hoarding sufferers is that their helpers now have the tools necessary to help them combat the condition once and for all. Along with Impacts of Hoarding, other tools like the Official Guide of Hoarders Do's and Don'ts are a proof-positive way to help hoarders and their loved ones establish an all-important bond of trust. This bond is necessary to start on the road to a happier, healthier lifestyle.