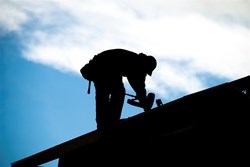 Burbank, CA (PRWEB) August 21, 2013
USA Business Insurance announces that General Liability Insurance specific to Roofing Contractors is available for sole proprietors as well as companies with multiple employees and subcontractors. It also covers those instances when additional part-time workers are hired for specific jobs.
There are occasions when the actual company owner or employee is working on a roofing project when debris or other materials and supplies can fall off the roof striking persons below. Even if this debris did not hit someone directly, a client can trip and fall suffering immediate injuries. Roofing Contractor Liability Insurance will protect the contractor's business from having to pay for any claims or legal fees out-of-pocket.
What many Roofing Contractors do not know is this same coverage protects the company from lawsuits and legal fees for several years after the work has been completed. Perhaps shingles come loose or leaks begin causing damage to the interior of the client's property. The client persists that it is the contractor's fault due to substandard work. Roofing Contractor Liability Insurance will cover these instances even if the damage is caused by materials that were purchased from a third party.
While many insurance policies are written on a basic form with many exclusions, the new tailored policy available now for roofing contractors offers an extensive policy specifically for a roofer and has very limited exclusions not pertaining to the industry. In addition, it will cover the contractor should a client claim the contractor made false claims in his advertising, or made false statements about a competitor to get the job.
When purchasing Roofing Contractor Liability Insurance that protects the customer, the business owner should seriously consider adding an Inland Marine policy. While the word 'marine' typically means something that is used in boating, in this instance the policy covers all the specialized tools that the roofing contractor uses. It does not matter if the tools are in a warehouse, in transit, or on a job site. This policy will protect the contractor from vandalism, damage and theft. To replace these tools could mean time and money. With the Inland Marine addition, all this would be taken care of for the Roofing Contractor.
To learn how Roofing Contractor Liability insurance can protect all companies in the roofing business, visit http://www.businessinsuranceusa.com.
About USA Business Insurance: USA Business Insurance provides general liability insurance and Inland Marine Insurance for diverse companies involved in the building and roofing industries. Knowledgeable experts are on hand to answer questions and recommend appropriate coverages.