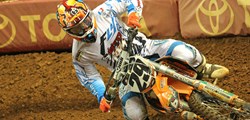 It's rare for customers to find brand new combos among the best motocross gear in the industry combined with the savings offered at BTO Sports
Thousand Oaks, CA (PRWEB) August 26, 2013
BTO Sports, a leader in quality motocross gear, parts and accessories, is happy to announce brand new dirt bike gear combos for motocross enthusiasts. Even though 2014 is still a few months away, new motocross combos are available now. Combos include pants, jerseys and the option to add gloves.
"The 2014 FLY Kinetic Block Jersey and Pant Combo is my favorite 2014 gear," said a BTO Sports representative. "It has a ton of awesome design features that makes the gear comfortable, extremely durable, and it has really vivid colors."
Some of the features in both the jersey and pants include multi-panel construction, a comfort-stretch collar, stretch rib panels and a zipper lock system. Fly Racing, a company that sponsors an array of professional dirt bike racers including the BTO Sports-KTM Team, also has innovative designs for its Kinetic Racing Gloves. These gloves feature excellent ventilation, silicone finger grips and reinforced multi-stitched layers.
Fox, Thor, O'Neal and One Industries have also launched new 2014 motocross gear and combos. Fox in particular has received rave reviews from its past designs. Fox's brand new 2014 pant and jersey combos feature the same known technical build with innovative designs, and attractive colors and patterns.
Thor's designs for the new year are also offered as a pants and jersey combo from BTO Sports. The Thor 2014 Volcom Core Aloha gear combo comes in bright colors and will maintain its vibrancy because of its sublimated no-fade graphics. The lightweight material and vent panels let riders feel the island breeze even if they're riding in the desert.
"It's important to not only look good riding, but feel great too," a BTO Sports representative said. "It's rare for customers to find brand new combos among the best motocross gear in the industry combined with the savings offered at BTO Sports."
These combos from top brands at BTO Sports are available for purchase now. With 2013 styles selling out, BTO offers 2014 gear ahead of the curve so riders can get a jump start on the competition.
About BTO Sports
BTO Sports offers the largest collection of motocross gear, dirt bike parts and motocross parts on the web, including motorcycle helmets, motorcycle boots, motocross casual and more. BTO Sports is all about supporting the rider. Whether you're a pro, amateur or just a weekend warrior, BTO Sports has the gear you need at the prices you love.