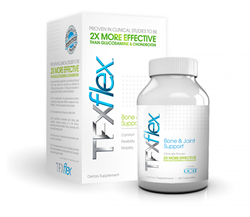 This product has been shown in clinical studies to be 2X more effective than glucosamine & chondroitin.
Salt Lake City, UT (PRWEB) August 21, 2013
TFX Health, LLC released more striking evidence earlier this week why its popular TFX Flex™ joint health supplement is taking the joint health industry by storm. The customer reviews released this week indicated that TFX Flex™ resulted in joint pain relief for most consumer after only 7 days of consistent usage. This is unheard of in an industry dominated by glucosamine & chondroitin, which may work for a small percentage of the population but can take months or even years to achieve results.
One satisfied customer, J. Monnier, reported, "The usual daily pain in my joints is much less with this product. I noticed a difference by the end of the first week." Another customer, M. Jacobsen, explained, "After two knee surgeries, I was skeptical after trying just about everything out there for my knee aches, but when you're in pain, you'll try just about anything. I'm glad that I gave this a shot, as it worked great, and I was seeing/feeling results in less than a week."
TFX Flex™ contains a breakthrough new dietary ingredient known as UC-II® that has been proven in human clinical studies to be 2X more effective than glucosamine & chondroitin for joint pain relief. UC-II® was developed by a team of scientists with more than 25 years of experience in the development of patented, clinically proven dietary ingredients. It holds 7 international and U.S. patents and is supported by 9 human clinical studies, including research at Harvard Medical School.
In one randomized, double-blind, placebo-controlled human clinical study published in the International Journal of Medical Science it was found that only 40 mg of UC-II® Undenatured Type II Collagen was more than two times as effective as 1,500 mg of glucosamine and 1,200 mg of chondroitin in supporting joint health, comfort and flexibility. It outperformed the glucosamine & chondroitin combination in three different joint pain relief assessment tools: WOMAC, VAS and the Lequesne Functional Index. UC-II® significantly decreased joint pain during daily activities, including walking on a flat surface, performing heavy domestic duties, ascending stairs and while resting in bed. UC-II® was also shown to be safe and well tolerated with no known side effects [Int J Med Sci. 2009; 6:312-321].
A TFX Health company spokesman explained, "The science behind joint health is rapidly changing with glucosamine & chondroitin no longer the only options for joint pain relief and certainly not the best option. As a company, we want to offer the public superior solutions for joint pain relief." The company cited a study published in the British Medical Journal in 2010 that concluded that, "glucosamine and chondroitin, either taken together or separately, have not shown a clinically significant improvement in joint pain relief for patients troubled with knee or hip osteoarthritis [BMJ 2010; 341:c4675].
Another satisfied customer, Judy P. , reported, "I have tried numerous glucosamine and chondroitin products, but never with complete relief. I tried this product and by the 7th day, as promised in the ad, most of my pain was gone."
TFX Health, LLC teamed up with GNC to launch TFX Flex™ earlier this year with the understanding that joints can only be as healthy as the bones and muscles to which they are attached. TFX Flex™ is the only product on the market that combines clinically proven ingredients for muscle, bone, and joint support providing a safe and effective solution for the entire musculoskeletal system. Since its introduction, TFX Flex™ has become GNC's best selling triple threat for bone, muscle, and joint health.
To learn more about TFX Flex™ Joint Health Supplement please visit http://www.TFXflex.com/. The product is also available at GNC.
About TFX Health, LLC
Based in Salt Lake City, TFX Health, LLC is an innovative pioneer in the development of advanced health and wellness products. Its brands include TFX Flex™ Joint Health Supplement, TFX Drive™ Testosterone Booster, TFX Elite™ Extreme Thermogenic, and other high end formulations. TFX Health products are manufactured in the USA in FDA registered, GMP compliant facilities and sold worldwide through online and traditional retail channels.
UC-II® is a trademark of InterHealth N.I. Clinical data available upon request. U.S. Patents 5,645,851; 5,637,321; 5,529,786; 5,750,144; 7,083,820; 7,846,487, EPO Patent 1435906B1 and worldwide patents pending.