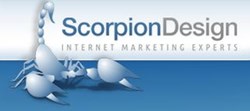 Valencia, CA (PRWEB) August 20, 2013
For the third year in a row, Scorpion Design, LLC has been honored as one the nation's fastest growing companies. Over the past three years, they have seen a 289 percent growth, which has been fostered by their team almost tripling in size and their revenue skyrocketing. The website design and Internet marketing company is also proud to announce that they have been ranked as the 94th fastest growing company in the Los Angeles metro area. In 2011, they were ranked 1034th in the nation, and in 2012, they were 1180th.
Scorpion attributes their maintained success to the people that they place on their teams and their passion for what they do. They truly consider themselves to be a client-centric operation, and are always looking for ways in which they can help their clients. Whereas other Internet marketing companies are content to "set it and forget it," clients who work with Scorpion have access to a personal marketing team who intimately knows their campaign and is always looking for opportunities to help them. To see for yourself the success that this types of service has had, all you need to do is check out the testimonials their clients leave them.
"Scorpion is the best web marketing company out there," said client Attorney Jeff C. Paulk. "The support my firm receives and the contact marketing efforts Scorpion delivers are second to none. I highly recommend Scorpion to anyone looking for a better solution than what you are currently using."
Since being incorporated in 2003, the team at Scorpion Design has worked tirelessly to make a name for themselves, and they have truly succeeded. While they are proud of the awards that they have received, the testimonials that they receive, such as the one above, are really what they live for. Their team rallies around always delivering more than is expected, and works often around the clock to see their clients succeed. This type of heart has led to the team consistently growing, and they are not looking at stopping anytime soon.
While making this prestigious list for three years in a row is more than most companies could ever ask for, Scorpion is never content to rest on its laurels. Therefore, they are setting their sights even higher and looking to grow even more, put out an even better product, and find new ways to better service their clients. As founder Rustin Kretz said, "We look forward to being on this list for many years to come."
The Inc. 500 | 5000 list is one of the most prestigious honors a company can receive as it recognizes those companies who experience explosive growth. The 2013 list is ranked according to percentage revenue growth over a three year period; for this year, it was 2009 to 2013. Beyond demonstrating that they have had one of the fastest growths out of all of the companies in the nation, they must also have been founded and been generating revenue no later than March 31, 2009 and have earned no less than $2 million in 2012. Other eligibility requirements include being based in the U.S., privately held, for profit, and independent.
Scorpion Design, LLC is an Internet marketing and web design company that primarily services lawyer and law firms. Based in Southern California, they are proud to service attorneys throughout the nation and even worldwide. From award-winning web design to professionally written content to bleeding-edge technology, they truly are a one stop shop for all web marketing needs. To learn more about the company or to get in touch with their marketing experts, simply visit them online today at http://www.scorpiondesign.com .