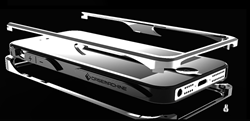 An all-aluminum case for durable performance.
Miami, FL (PRWEB) August 22, 2013
Casemachine's products are produced after weeks of precision and design engineering to exude racecar inspiration. The Berlinetta, the Slimline V2, Slimline Pro, Sesto and the Forza are the five largest selling cases which the company has produced for Apple's iPhone devices.
The Berlinetta Case: Casemachine's First All-Aluminum Hybrid
The Berlinetta case is Casemachine's first case which has an all-aluminum build. The case is the result of solicitous design engineering and deep understanding of the iPhone's antenna placement. Instead of making a composite, Casemachine adopted a different strategy and built a silicone housing which the all-aluminum body is screwed on.
The silicone doesn't let the aluminum touch the antennas or create electromagnetic ranges around the iPhone which will distort signal reception. The result; Casemachine released an all-aluminum case while the competition was relying on polymers and other feeble plastic cases with printed patterns.
The Berlinetta case comes with a screw-on assembly. The screws are easy to tight together, the components of the case fit together to give off a perfect shape and it doesn't take much time to tight the screws of the Berlinetta.
The silicone on the Berlinetta serves three purposes:

It acts as the housing between the phone and the all-aluminum body of the Berlinetta
It acts as the integrated volume switch to provide a soft-touch experience on the side
It is highly impact-elastic and provides unparalleled drop protection and scratch resistance
The president of Casemachine said "If you take a closer look at the Berlinetta, you will find that it is absolutely the best case for the iPhone 5 available in the market, period! Our engineers spent hours just to think of a possibility for an all-aluminum hybrid which won't affect the phone's signal reception…and when we finally came up with an idea, it took them weeks to design the basic shape of the Berlinetta! I think with all the blood and sweat put behind the Berlinetta case, Casemachine had to provide a nonesuch user experience – which we obviously have succeeded in delivering!"
Casemachine states that the Berlinetta is now "on its way to all the enthusiastic iPhone users worldwide". The first batch of the case will be shipped as soon as the first week of July and more orders will be delivered thereafter.
For any further information on the Casemachine Berlinetta case for Apple iPhone 5, please contact Casemachine support by joining the newly designed Casemachine Community.
About Casemachine
Casemachine, LLC was a result of unmatched dedication to provide smartphone users with accessories that actually compliment their devices' inherent beauty and not take away from it. The cases that Casemachine produces are aimed to provide a case-less feel of the phone while completely customizing its appearance and providing uncompromising fall protection.