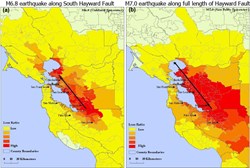 Hope for the best, but prepare for the worst.
Hayward, CA (PRWEB) August 22, 2013
For over 20 years WorkSafe Technologies of Northern California has suggested to their customers "hope for the best, but prepare for the worst" when it comes to earthquakes. Non-structural seismic mitigation of a companies health and safety risks is just one of the many ways to prepare.
Unfortunately for Cal State's Warren Hall, there was no hope. Warren Hall was recently imploded because it was declared the most seismically unsafe structure in the university system. The amount of mitigation that would have been needed to help protect it from a looming Hayward Fault earthquake would be more expensive than the cost of a new building. Even though most of the new buildings that are being built around the Hayward Fault are seismically sound, the contents and employees within are still at risk.
What kind of risk? According to a report done by the Hayward fault Paleoearthquake Group (HPEG) entitled "Timing of Paleoearthquakes on the Northern Hayward Fault", the Hayward Fault will unleash an earthquake around a 6.7 magnitude within the next 30 years.
Now 30 years may not seem like a big deal but lest we forget about the scientists from Italy that were sentenced to 6 years in prison for their involvement in a "bad" prediction back in 2012. "Our ability to predict earthquake hazards is, frankly, lousy," Seth Stein, a professor of Earth sciences at Northwestern University in Illinois, told LiveScience. The only thing we can be sure of is that there will eventually be another "big one" and being prepared is the best way to combat this type of disaster. Remember, "Hope for the best, but prepare for the worst".
What is the "worst"? The US Bureau of Labor Statistics published an article in its Monthly Labor Review forecasting the economic effects of the upcoming "Big One" earthquake, a magnitude-6.9 event, on the Hayward fault near San Francisco. The estimated impact, in terms of workers and employers affected, exceeds the trauma of Hurricane Katrina.
Contact your local WorkSafe rep to see how you can be more prepared.