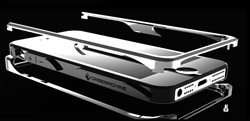 Miami, FL (PRWEB) August 24, 2013
Casemachine, LLC is a Miami based manufacturer of exotic smartphone accessories that are inspired by racecar design and performance. The company has put forward several innovative concepts and highly engineered designs guaranteed to exude racecar inspiration and completely customize the looks of a smartphone without affecting its inherent beauty.
Casemachine's vision with the Berlinetta case is to bring a hybrid case for the users of Apple's iPhone 5 that would not take much time to completely screw on. The Berlinetta case for Apple iPhone 5 is an all-aluminum hybrid with a premium silicone housing inside which serves three purposes.
The silicone polymer keeps the aluminum body of the Sesto away from iPhone's delicate antennas thus ensuring no loss of signal reception and/or data transfer speeds. It also acts as the iPhone's touch-friendly volume switch and also helps in absorbing common impact to ensure the phone does not get damaged.
Casemachine's Sesto case for Apple iPhone 5 is one of the most elite smartphone cases produced by Casemachine to date since its inception in 2010. The company is committed to providing well-researched and excellently designed smartphone accessories to cater for an overall elevated user experience.
The company has already started shipping the Sesto case for Apple iPhone 5. Included in the box now is a Casemachine SpeedKey tool which immensely helps in tying the screws neatly while saving time. The front bezel fits along the corners of the back frame in between which lies the silicone housing. The three parts are then screwed together with premium screws and the result is unmatched grip on the phone.
The aluminum used in the construction of the Sesto case for Apple iPhone 5 is CNC machined to provide an exotic finish and a premium feel to the touch. Casemachine has used aircraft grade billet aluminum to shape the case perfectly that would fit exactly onto the iPhone 5 and will hold it tightly.
For extreme customization, Casemachine lets its customers individualize their own cases following a simple four-step design studio process. Users can easily choose any color of the front bezel (available in 8 colors) they want to. They are then guided to choose the back frame available in two colors – Black and Silver. Next, users are asked to choose the color of the silicone housing. Transparent, clear housing is also available to give a more case-less feel of the iPhone.
Casemachine's Sesto case has successfully passed extensive drop tests conducted at Casemachine headquarters in Miami, FL. The company has taken in account all the factors that would have an impact on the overall user experience and has therefore designed a racecar inspired phone case that would provide elite protection along with a comfortable hold.
For further information, please contact Casemachine customer support at 305-818-9933.