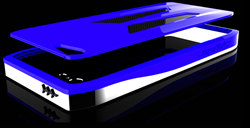 (PRWEB) August 25, 2013
The Sesto Spyder case will continue the tradition to manufacture exotic smartphone accessories and will be one of the most elite phone cases created to date having the official Casemachine logo on it. For the Sesto Spyder case for Apple iPhone 5, Casemachine has kept a slightly different approach by providing a snap-on backplate having two carbon fiber strips for extremely fine detailing.
The polymer used on the Sesto Spyder case is automotive PPG coated for a fine gloss and seamless finishing. The carbon fiber incorporated into the detachable non-adhesive backplate is real CNC machined and perfectly placed to avoid any signal reception loss or disturbance in data transmission. Casemachine has used only the best polymer and carbon fiber to put forward something completely racecar inspired and elite.
The Sesto Spyder case for Apple iPhone 5 also has a machined, brushed and anodized aluminum bezel that fits on to the sides of the iPhone. A stylish "Spyder" is engraved on the sides of the aluminum bezel for further detailing. The aluminum bezel is responsible to provide extreme shock resistance and fall protection to resist common impact.
Individual tests have revealed that the Sesto Spyder case for Apple iPhone 5 is built to withstand vibrant shocks and movements without letting the phone face any damages. The thick polycarbonate backplate along with the aluminum bezel covers all sides of the iPhone firmly and does not allow any side exposed to potential wear and tear and other damage.
Casemachine's vision to craft the finest smartphone accessories has helped the company to deliver its message across to a wide range of audience. The company has produced several limited edition phone cases having design elements found exclusively in exotic racecars from some of the biggest names in the automotives industry.
Casemachine has finalized the design and the Sesto Spyder case for Apple iPhone 5 is now being extensively checked for signal issues and other potential setbacks which may be needed to remove. The company plans to ship the case to all parts of the world later this year.
The chief mechanical design engineer at Casemachine headquarters Miami, FL stated that, "The Sesto Spyder case for Apple iPhone 5 is the best phone case iPhone users will ever be able to get their hands on, period. We have used the best materials and made them better by using PPG coatings, CNC machining, anodizing and brushing techniques to actually provide true value for money to our beloved customers."
With a clear perspective and innovative design concepts, Casemachine now plans to release the Sesto Spyder case later this year with great customization. The case will be available in four colors inspired off of the official paint codes of super performance sports cars. For further information, contact Casemachine at 305-818-9933.