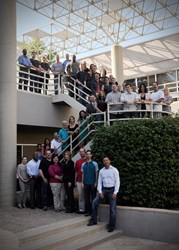 We're thrilled to join the ranks of the nation's most innovative and successful businesses.
Scottsdale, AZ (PRWEB) August 21, 2013
Appointment-Plus, a worldwide leader in online and mobile scheduling software, announced today that it has been named to the prestigious Inc. Magazine's 500/5000 list of America's fastest growing private companies.
The Scottsdale, Ariz.-based Software as a Service (SaaS) company is ranked 2,199 overall and 174 in the software category. It experienced a 168-percent rate of growth from 2009-2012.
This is the first year that Appointment-Plus has ranked on the Inc. 500/5000. The company joins Microsoft, Zappos, Intuit, Oracle and dozens of other notable companies that gained early exposure by making the list.
"We're thrilled to join the ranks of the nation's most innovative and successful businesses," said Bob La Loggia, CEO of Appointment-Plus. "This recognition is a true testament to the dedication and drive of the entire Appointment-Plus team.
"Their efforts and commitment to the company have been instrumental in our growth."
The 2013 Inc. 500/5000 ranked companies based on overall growth from 2009-2012.
With over 16 million users in 20 countries, Appointment-Plus has scheduled over 125 million appointments through its application since 2001. Its clients include Fortune 500 companies, large corporations, colleges and universities, and businesses of all sizes.
Increasing its employee count fourfold since 2010, the company was also recently named one of the top places to work in Arizona by CareerBuilder. It employs over 60 professionals at its Scottsdale headquarters.
To learn more about Appointment-Plus, visit http://www.appointment-plus.com/.
#
Appointment-Plus is a Scottsdale, Ariz.-based SaaS company named one of the Phoenix metro area's top software firms by the Phoenix Business Journal. They provide over 16 million people access to their online business management software, which specializes in appointment scheduling for customers, staff and resources.
For media and online journalists: Interested in interviewing our executives regarding future business-to-business online software technology or quotes for guest articles? Please email us at erichard(at)appointment-plus(dot)com.