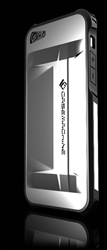 Miami, FL (PRWEB) August 26, 2013
Casemachine released the new i5 Slimline v2 case for Apple iPhone 5 earlier in May this year. The case is a slip-on Silicone-Aluminum hybrid with optional dimensional back plate and race car inspired design. The i5 Slimline v2 case is aimed to provide a tighter grab over the iPhone.
Unlike its predecessor, the all new Casemachine i5 Slimline v2 case for Apple iPhone 5 is built with touch friendly, easy-grip silicone polymer. The silicone is responsible for providing a much tighter grab over the iPhone and doesn't add useless weight around the corners of the phone. Casemachine states that the i5 Slimline v2 withstands as much as three times more impact than the original Slimline Flex case released last year.
The company has also replaced the Racecar carbon fiber back plate with the branded Alcantara Suede back plate which provides a more refined look to the iPhone's rear panel while assuring data transmission and signal reception is not affected at any given time.
Casemachine has anticipated a general increase in sales demand as the much awaited iPhone 5S is soon to be provided with a launch date. The company has expected a significant increase in orders coming from all parts of the world and a special customer support panel has been appointed to handle complaints, queries and other general inquiries.
Casemachine's president and chief mechanical designer stated in an interview, "With the new i5 Slimline v2 case for Apple iPhone 5, Casemachine has set a standard it would need to meet and exceed to satisfy its customers with all future releases. The finishing our excellent design engineers provided with premium silicone polymer is truly commendable and I hope the customers experience the race car inspiration we have tried to exude through our design."
The i5 Slimline v2 aims to provide a case-less feel of the iPhone and Casemachine states that the case doesn't take away the phone's inherent beauty while providing it elite protection. Casemachine has also stated that the i5 Slimline v2 will have CNC machined aluminum bezels on each side having ergonomic curves for a better hold.
The aluminum inlays are made from robust aluminum capable of withstanding immense amounts of pressure. This ensures that the iPhone's sides are protected from vibrant impact at all times. Casemachine also presented its i5 Slimline v2 case for Apple iPhone 5 to the attendants of the ICES show and Las Vegas CTIA show 2013.
For further information regarding Casemachine's i5 Slimline v2 case for Apple iPhone 5, please feel free to contact the customer support at 305-818-9933.