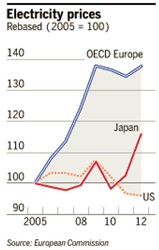 Pipeline operators may be the unintended recipients of liability if wind farm induction currents or 'stray voltage' corrode pipe
Calgary, Alberta, Canada (PRWEB) August 22, 2013
Friends of Science express concern that a proposed Alberta wind farm may cause serious problems for conventional North American energy supply while doing nothing to mitigate climate change or global warming.
Friends of Science oppose the Alberta School Boards $160 million dollar purpose-built Bull Creek wind farm near Provost, Alberta; a 25 year Power Purchasing Agreement and equity deal with BluEarth Renewables Ltd. The intended area is criss-crossed by buried oil and gas pipelines that feed North America. Induction currents or stray voltage from wind farms can cause pipe corrosion and can lead to catastrophic leaks or explosions.
"Pipeline operators may be the unintended recipients of liability if wind farm induction currents or 'stray voltage' corrode pipe," says Len Maier, a retired professional engineer whose team lead experience includes capping hundreds of oilwell blowouts in Kuwait following the first Gulf War, which were the worst man-made environmental disaster in the history of the world.
Induction currents are electrical currents induced in a conductor, such as a pipeline, by changing magnetic fields, which may be caused by stray electrical energy leaking from wind turbines into the ground. Pipelines are typically made of steel, an ideal electrical conductor.
"In Ontario and Spain, some farmland has been 'electrified' to the point where cattle are 'dancing' from the shock and refuse to drink water (leading to disease or death). A farmer in Ontario was found electro-shocked and unconscious under his loader," says Maier, who also farms in his retirement.
Solving induction issues is difficult or impossible once large wind turbines are in place. Due to the uncontrollable nature of stray voltage, there is no simple solution.
Energy stakeholders in Alberta express concerns with wind power integration to the system and oversupply. ATCO says: "The simple fact is that the wind regime is uncontrollable..." . Enmax notes that surplus wind may cost Alberta taxpayers millions of dollars, referring to Ontario, citing "Surplus wind power could cost Ontario ratepayers up to $200 million."
Alberta School Boards Commodities Purchasing Consortium tout environmental benefits and claim that 'wind is free.'
"Wind energy is expensive. In Alberta, taxpayers pay for hidden billions in infrastructure to accommodate wind – in return for just 3% power," says Maier.
An April 2013 Fraser Institute study found Ontario's Green Energy Act is "10 times costlier than alternatives that would have yielded the same environmental benefits."
Studies show wind farms do not produce a net reduction in carbon dioxide (CO2).
A 2012 UK study by Dr. Gordon Hughes "Why is Wind Power so Expensive?" shows that the cost of electrical energy generated by wind turbines with the required back-up facilities in the United Kingdom is nine times more than the cost of generating electricity using gas-fired plants alone.
In Alberta, Pembina Institute has made community presentations on behalf of BluEarth Renewables. Pembina Institute and the WWF wrote the "Renewable is Doable" plan for Ontario which has virtually bankrupted that province.
Friends of Science say Pembina Institute's "Greening the Grid" is based on climate change ideology of 2009 that is being abandoned in Europe today.
"Preferential status and subsidies to renewables cause energy prices to skyrocket. EU taxpayers face "heat-or-eat" poverty and grid blackouts," says Maier.
Maier notes, "School boards are being offered equity and the right to hold or trade in Renewable Energy Certificates. Alberta School Boards were told to keep the project quiet until the deal was done. This lack of transparency with taxpayers' dollars is suspect."
Friends of Science have reviewed climate science for the past decade. Their position is the sun is the main driver of climate change, not human activity or carbon dioxide.
About the Friends of Science
Friends of Science have spent a decade reviewing a broad spectrum of literature on climate change and have concluded the sun is the main driver of climate change, not carbon dioxide (CO2). The core group of the Friends of Science is made up of retired earth and atmospheric scientists.
Contact:
Friends of Science Society
P.O.Box 23167, Connaught P.O.
Calgary, Alberta
Canada T2S 3B1
Toll-free Telephone: 1-888-789-9597
Web: friendsofscience.org
E-mail: contact(at)friendsofscience(dot)org