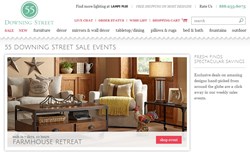 The Premier Destination for Designer Home Furnishings and Décor.
Los Angeles, California (PRWEB) August 26, 2013
55 Downing Street announces the evolution of its home furnishings sale event site with a fresh new look and the addition of permanently-offered merchandise assortments, allowing customers to shop thousands of designs previously available only during limited-time sale events. Additionally, the site is introducing exclusive house brands and a new blog team of design and lifestyle influencers. Backed by leading lighting retailer Lamps Plus and its worldwide team of industry experts, the re-vamped 55DowningStreet.com offers an unprecedented level of value, selection and service, making it the online destination for furniture and designer home décor.
Since its original launch in May 2012, 55 Downing Street has witnessed an evolution in the flash sales arena, as consumers increasingly utilize these limited-time, limited-quantity sale sites to both enjoy significant savings and gain exposure to new styles and brands they might not otherwise discover. By offering a full selection of regularly priced merchandise alongside décor and furniture flash sale events every Monday, Tuesday, Wednesday and Friday, 55 Downing Street caters to this "hybrid" model of consumer behavior to offer a combination of deep discounts and wide selection.
Attention to design is, of course, paramount to the business model as well. "Over the last year, we've discovered what designs truly excite our customers most. So we now scour all corners of the globe to source the latest styles," says Manja Swanson, Chief Creative Officer for 55 Downing Street and Lamps Plus. "From handmade Indian rugs and pillows to furniture produced right here in California, each design on 55 Downing Street has been hand selected on the basis of quality, value and, of course, style."
Dennis Swanson, Owner and CEO of Lamps Plus, explains the added value that the parent company brings to 55 Downing Street. "By leveraging the strengths that Lamps Plus has developed over more than 30 years in business, we're able to offer customers a high level of service uncommon to the flash sale arena, such as the ability to accept returns and to ship most items directly from our California warehouse within two days of order. Additionally, we offer free shipping on most designs and 120% Price Protection policy, virtual guaranteeing that consumers will always find the best price on 55DowningStreet.com."
Starting in early 2014, 55 Downing Street will launch its first three exclusive house brands. The brands – Dahlia Studios, Chateau Lux and Cinnabar Road – will feature artisan soft lines, continental inspired furniture, and globally-inspired imported furnishings, respectively. In addition, the site currently offers designs ranging from stylish accent chairs and outdoor furniture to decorative wall mirrors and more from many of the nation's more notable names in lifestyle and décor.
To complement the re-launch of 55DowningStreet.com, the company will have a robust online presence across social media platforms Twitter, Pinterest, and Facebook. The 55 Downing Street blog will feature a new blog team composed of up-and-coming designers, lifestyle experts and design industry influencers. This new cast of contributors offers readers a fresh voice and eye for the latest in design and home decorating. The contributors are: Katie Anderson of Modern Eve Erin Hiemstra of Apartment 34, Ashlina Kaposta, The Decorista, Christian May of Maison21 and Maggie Morgan of Maggie Rose Interiors.
About 55 Downing Street
55 Downing Street is a new concept in online retail offering both permanent merchandise assortments and limited-time, limited-quantity home furnishings sale events. Featuring designer furniture, home décor and lighting at exceptional discounts, 55 Downing Street is part of Lamps Plus, America's largest and most trusted lighting retailer. 55DowningStreet.com offers perks not found on most flash sale sites, including a no-nonsense return policy, attentive customer service and top quality products sourced from the parent company's worldwide team of industry experts. With sale events organized around design and seasonal themes at savings up to 70% off, 55DowningStreet.com is the new destination for deep discounts on high style. New sale events are added every Monday, Tuesday, Wednesday and Friday at 55DowningStreet.com.
About Lamps Plus
For more than 30 years, Lamps Plus has been synonymous with excellence in the retail lighting industry. Established in 1976, Lamps Plus is the nation's largest specialty lighting store, with more than 40 superstores throughout the western United States. In 2013, LampsPlus.com was named a Top 10 Housewares/Home Furnishings e-tailer and a "Hot 100" world's best retail website by Internet Retailer Magazine. Together with its retail locations, Lamps Plus serves customers nationwide with the largest selection of functional and decorative lighting fixtures, accessories, furniture and home decor. This selection includes hundreds of products, ranging from traditional chandeliers and pendant light fixtures to the latest in home decor, available exclusively from Lamps Plus. Services include in-home lighting consultations, in-store workshops and installation from expert, licensed electricians. American Lighting Association certified designers are available to offer product recommendations and advice in all our stores, by phone or online at LampsPlus.com. The Lamps Plus family of websites also includes 55 Downing Street, Lighting Luxury Style, Builders Discount Lighting, and Lamps Plus Open Box. Visit the official Lamps Plus website: LampsPlus.com.