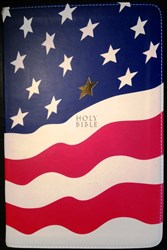 Every American should own one!
Franklin, TN (PRWEB) August 22, 2013
Cristy McNabb, co-founder of publishing house BreakinThru, announced today that God's Glory Bible™ is available for pre-order for Christmas delivery. In an interview earlier today, Ms. McNabb described God's Glory Bible™ as, "a King James Version Holy Bible with an American flag inspired leather-soft cover. A true inspiration for Americans everywhere."
Christian Americans of all faiths have access to God's Glory Bible™. Four years in the making and finally ready for publication, patriotic Americans can pre-order at anytime by visiting the website, http://www.GodsGloryBible.com. "We need help from patriotic Americans to send this product nationwide and around the globe to Americans everywhere. Pre-orders will spread the word about God's Glory Bible™ and give people an opportunity to have it delivered for Christmas gifts," Ms. McNabb said. "Owning a God's Glory Bible™ shows your faith and your love of America. Every American should have one," she continued.
Along with Patriotic family records pages, presentation pages, maps and a concordance, God' Glory Bible™ includes inspirational stories of people in the United States doing good works. Each edition of God's Glory Bible features different stories. A percentage of sales proceeds are donated to the God's Glory Foundation for distribution to organizations featured in the editions.
Along with God's Glory Bible™, publisher BreakinThru is developing a line of related God's Glory Bible™ products including devotionals, notebooks, t-shirts and other items to inspire Christian Americans. God's Glory Bible™ is printed, published and bound in the United States of America. The design and name are trademarked and design patent pending.
Contact:
Cristy McNabb
BreakinThru, L.L.C.
Cristy(at)GodsGloryBible(dot)com
http://www.GodsGloryBible.com
God's Glory Bible™ is published by BreakinThru, L.L.C.
# # #