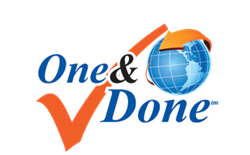 Manufacturers love One & Done™, says Guaranteed Returns® Robert Schlatenbrand, VP, Industry & Trade Relations. Manufacturers reduce expenses associated with return goods as shipping, receiving & processing costs are eliminated.
Holbrook, NY (PRWEB) August 22, 2013
The One & Done™ program is experiencing tremendous growth in the number of participating manufacturers. Manufacturers like the efficiency the program provides them and customers enjoy quicker turnaround on their pharmaceutical returns credits.
Through the Guaranteed Returns® One & Done™ program, manufacturers allow Guaranteed Returns® to destroy pharmaceutical returns instead of sending the pharmaceutical product back to the manufacturers or their agents.
This program minimizes the number of times the drugs change hands; reducing the carbon footprint, shipping and receiving costs as well as opportunities for diversion.
The manufacturers receive detailed reports about the processed and destroyed product and distribute credits based on the data in the reports. Since Guaranteed Returns® is SSAE-16 certified, manufacturers are confident that the data is accurate and precisely reflects what was returned.
Guaranteed Returns® customers get their credits quicker under the One & Done™ program versus a traditional set up where the Returns Company sends the product back to the manufacturer or their agent for processing.
Call Robert Schaltenbrand at 631-689-0191, extension 289 if you have interest in becoming one of the manufacturers in the Guaranteed Returns® One & Done™ program.
For over 25 years, Guaranteed Returns® has provided pharmaceutical return services to hospital, government, independent retail, chain-store, LTC, Mail-Order and clinic pharmacies.
Contact Guaranteed Returns® at 1-800-473-2138 or at guaranteedreturns.com.