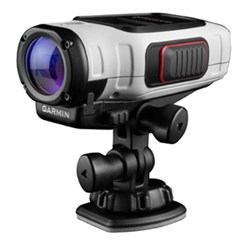 This is going to hurt GoPro because they now have a national marketing powerhouse for competition and the Garmin VIRB Elite is a superior product
Bozeman, MT (PRWEB) August 21, 2013
Garmin VIRB Elite action camera was launched today with availability anticipated by September 2013 according to the Heart Rate Watch Company.
"To say we are excited about this is an understatement because it is sleeker and offers features that GoPro doesn't have", says Rusty Squire, President of the Heart Rate Watch Company. He adds, "This is going to hurt GoPro because they now have a national marketing powerhouse for competition and the Garmin VIRB Elite is a superior product."
Christmas for Garmin, Coal in the Stocking for GoPro
"This camera allows you to use all of Garmin's advanced sensors so you can display heart rate data, temperature and even GPS data on screen", says Squire. He adds, "It also has a best in class battery and can overlay cycling data from a Garmin Edge 810."
The camera works with Garmin fenix and Garmin Edge 510 as well, in fact any Garmin product with Bluetooth Smart can transfer data metrics to the camera", says Squire
"This camera is so trick that it caught GoPro with its pants down because they have nowhere near Garmin's expertise and mapping data base, nor the experience with GPS and neither does Contour", says Squire. He adds, "Your GoPro is now obsolete, it has been more than one upped."
The Garmin VIRB elite will retail for $399.99 and includes VIRB Elite action camera, lithium-ion battery, cradle, shortlink, right angle link, adapter to popular industry mounts, flat surface mount, curved surface mount, removable flange base, threaded collar, three knobs, USB cable and documentation.
See All Your Metric Data (Heart Rate, Cadence) in Real-Time on Screen
"The picture quality is top shelf, the stabilization does a great job and the big kicker is that this camera works to display real-time heart rate, temperature and full metrics from any Garmin products that is wireless compatible with Bluetooth Smart", says Squire.
"GoPro has got a real mountain to climb because they just got leap frogged", says Squire.
"You can order the Garmin VIRB Elite and the Garmin VIRB at the Heart Rate Watch Company's website or call us at 866-586-7129", says Squire. He adds, "We are taking advanced orders right now for September delivery and won't charge your credit card until we ship."