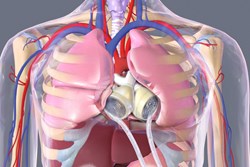 Tucson, AZ (PRWEB) August 21, 2013
SynCardia Systems, Inc., manufacturer of the world's first and only FDA, Health Canada and CE (Europe) approved Total Artificial Heart, announced today that doctors at EJK Duisburg in Germany have published the first case report detailing use of single-site cannulation with extracorporeal membrane oxygenation (ECMO) to successfully treat adult respiratory distress syndrome in a patient implanted with the SynCardia temporary Total Artificial Heart. The case report was published in the August issue of the Journal of Cardiothoracic Surgery.
Before the Total Artificial Heart implant, the 55-year-old patient was supported by veno-arterial ECMO due to refractory cardiogenic shock and severe respiratory failure. Once the Total Artificial Heart was implanted, the patient was weaned from extracorporeal circulation. However, due to pre-existing respiratory failure, doctors decided to implement veno-venous ECMO using a single-site bicaval dual-lumen catheter placed in the right internal jugular vein instead of conventional dual-site cannulation.
"In this context single-site veno-venous cannulation proved to have numerous advantages: it is simple to perform, it minimizes the risk of cannula dislodgement during patient care, reduces the risk of catheter related infections and finally allows early sternum closure," according to the report written by Dr. Sotirios Spiliopoulos, surgeons Dr. Guenes Dogan and Dr. Dilek Guersoy, intensivist Dr. Maria Rosario Serrano and Prof. Reiner Koerfer and Prof. Gero Tenderich, the implanting surgeon.
"Single-site venous cannulation could be a reasonable alternative to conventional cannulation for ECMO support in SynCardia Total Artificial Heart patients with an adult respiratory distress syndrome," the report concluded.
"This is an excellent case report," said Dr. Francisco Arabia, who has implanted more than 100 SynCardia Total Artificial Hearts. Arabia co-authored one of the articles cited in the August case report. That article dealt with parallel ECMO and artificial heart applications. He has proctored the first implant at more than a dozen hospitals qualifying these centers of excellence to become SynCardia Certified Centers.
###
About the SynCardia temporary Total Artificial Heart
SynCardia Systems, Inc. (Tucson, AZ) is the privately-held manufacturer of the world's first and only FDA, Health Canada and CE approved Total Artificial Heart. Originally used as a permanent replacement heart, the SynCardia Total Artificial Heart is currently approved as a bridge to transplant for people suffering from end-stage heart failure affecting both sides of the heart (biventricular failure). There have been more than 1,200 implants of the Total Artificial Heart, accounting for more than 335 patient years of life on the device.
Similar to a heart transplant, the SynCardia Total Artificial Heart replaces both failing heart ventricles and the four heart valves. Unlike a donor heart, the Total Artificial Heart is immediately available at SynCardia Certified Centers. It is the only device that eliminates the symptoms and source of end-stage biventricular failure.
The Total Artificial Heart provides immediate, safe blood flow of up to 9.5 liters per minute through each ventricle. This high volume of blood flow helps speed the recovery of vital organs, helping make the patient a better transplant candidate.
Forbes Ranks SynCardia #69 Among "America's Most Promising Companies."
In its February 2013 issue, Forbes selected SynCardia as one of "America's Most Promising Companies" for the second consecutive year. On the list of 100 privately held, high-growth companies with bright futures, SynCardia was selected #69, moving up eight spots from its #77 ranking last year. See the full list of SynCardia Awards & Recognition: here.