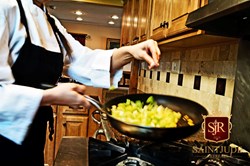 The new kitchen here at the Executive Retreat has provided a fresh platform to present our guest with the quality meals they have come to expect.
New York (PRWEB) August 21, 2013
The Saint Jude Retreats is proud to announce a brand new, renovated upscale kitchen re-design at the Executive Retreat House which was recently completed. The Saint Jude Retreats allows for an open-kitchen policy which allows guests to help themselves to snack or food at anytime, making their stay more comfortable and home-like. The Saint Jude's Executive Retreat which is an alternative to conventional executive alcohol rehabs, is known for its luxurious amenities, tucked away in a private country setting where guests can focus on moving beyond alcohol or drug use permanently. The Executive Retreats holds a maximum of 6 people, which allows for personalized classes and individualized attention.
The renovation of the kitchen includes expanded counters, larger cabinets and a better open kitchen feel. Dave Pangburn, Executive Chef adds, "The new kitchen here at the Executive Retreat has provided a fresh platform to present our guest with the quality meals they have come to expect. The addition of new, larger cabinets yield to an ample preparation area and better storage capacity increasing the kitchen's ease of use. The overall change has provided a continuity with the rest of the house and creates a nice central focal point for our guests."
Besides focusing on individual educational sessions, the Saint Jude Executive Retreat offers a plethora of social activities, including personal cooking sessions with the chefs. At the Executive Retreat, guests can learn if interested how to prepare gourmet meals and have their own cooking lessons at their leisure and request. The upgraded kitchen makes this learning process easier on all.
Michelle Dunbar Executive Director adds, "With the help of our Executive Chef, who designed the new layout, we've created a more aesthetically pleasing environment for both staff and guests. The new kitchen renovation is beautiful, functional and easily accessible, we are extremely proud of the work that has been done."
The Saint Jude Executive Retreat is one of three retreat houses and the most upscale. In the program guests will learn how to let go of habitual behaviors such as drug and alcohol use and create a new fulfilling life.
The Saint Jude Retreats is a non-disease, non-treatment based drug and alcohol program implementing proprietary methodology called Cognitive Behavioral Education (CBE). The program is the only effective alternative to alcohol rehab and drug treatment centers and is currently 85% more effective than treatment. The program is endorsed by internationally acclaimed professionals and addiction research authors such as Prof. Emeritus David Hanson, PhD; Prof. David Rudy, PhD; Dr. Joy Browne and the late Joseph Vacca, PhD, among others.
Saint Jude Retreat's Facebook Page
Saint Jude Retreat's Google + Page
Saint Jude Retreat's Twitter Page