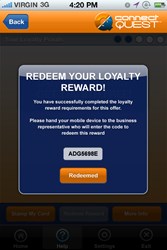 A small local business can compete with larger retailers who have access to sophisticated mobile technology. It's a very affordable way to reach reward-based shoppers as well as impulse buyers.
Simsbury, Connecticut (PRWEB) August 21, 2013
ConnectQuest, the industry's most precise location-based shopping application, has added a new loyalty program feature to the ConnectQuest application software.
The aspect that sets ConnectQuest apart from other close proximity marketing apps is the combined hardware and software package for retailers, shopping malls and event venues aiming to communicate with potential customers within close proximity. The hardware consists of a small patent-protected low-energy Bluetooth beacon placed at the location. This beacon communicates with any mobile device on which the free ConnectQuest app has been downloaded, creating location identification that is far more precise than GPS, cell tower triangulation or public Internet router positioning alone. When a person is standing outside a storefront, an enticing offer may prompt that person to come inside. The new loyalty feature keeps customers coming back.
ConnectQuest's new loyalty feature enables the retailer to create their own "frequent shopper" offer and allows the shopper to keep track of visits via his or her smartphone. No more lost reward points because you didn't know about the program, or because you left your card home or couldn't find it. For business owners, it's an incentive to reach loyal customers in their mobile comfort zone.
ConnectQuest features and benefits:

The Loyalty feature is easy to use and allows a small business owner to compete with larger retailers in the rapidly growing mobile marketplace.
Business owners can offer time-sensitive incentives or rewards to motivate passers-by to come in and shop.
Consumers can instantly download the free app onto their mobile device by scanning the QR code placed in participating store windows.
Consumers can search by categories of interest and radius, whether 100 feet or another part of the country, to receive notification of bargains.
Very affordable for a business of any size.
"ConnectQuest's loyalty feature allows small local businesses to compete with larger retailers who have access to sophisticated mobile technology to reach potential customers. It's a very affordable way to reach reward-based shoppers as well as impulse buyers," said David Moldavsky, a ConnectQuest founding partner.
Local business owners, for a small monthly fee, have access to the ConnectQuest system with complete control over content and scheduling of shopping incentives and the loyalty program. The business owner determines the offers, and keeps 100% of income generated through the ConnectQuest system.
"Do You CQ?" Download the free ConnectQuest app at http://www.connectquest.com or at the App Store or Google Play.
Retailers can get started online, too.
For more information, call toll-free 1-855 DO YOU CQ (855.369.6827).
About ConnectQuest
ConnectQuest, LLC, is a technology company focused on close proximity mobile applications. The company's mission is to solve problems and bring value and affordability to allow small business owners to compete alongside large companies in the mobile marketplace. Founded in 2009 in Simsbury, Connecticut, ConnectQuest is a registered application developer with Apple, Inc. and Google and owns patents on its proximity-based services. For more information, visit http://www.connectquest.com.