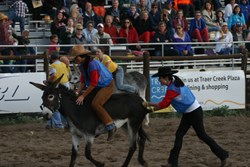 Denver, Colorado (PRWEB) August 22, 2013
CDLA held its 2013 Annual Conference in Beaver Creek, Colorado the first week of August. DRI Regional Director Bob Shively and DRI Executive Director John Kouris made the trek out to join in three days of fun, camaraderie and CLE's. John opened the session to well over 250 registrants eager to hear keynote speaker James Cooney discuss the Duke Lacrosse case. "DRI sponsoring Mr. Cooney was a huge draw for our conference," said Rob Jones, 2013 Conference Chair. "Having this resource at our fingertips only enhances the buzz of our conference." The event was highlighted with 3 of the following member firms burro racing,
Team 3 Asses and A Lass from Nathan Bremer Dumm & Myers
"The Best Donkey Show North of Tijuana"
Bernie Woessner - Leonia NJ
Ashley Barr - Aurora CO
Tim Fiene - Ft Collins
Team Burro'd Time from McElroy Deutsch Mulvaney & Carpenter
"Your Burro, My Ass"!
June Laird - Sterling CO
Katherine Otto – Marlin TX
Glen Laird – Worland WY
Team Jamie and the Jackasses from Landry & Pratt
"Selected as Super Asses by 5280 Magazine!"
Scott Landry – New Orleans LA
Jerry Pratt – Salt Lake City UT
Jamie Walker – Logan UT
"We are particularly excited about next year's conference," which will be held in Telluride, Colorado, and will feature Supreme Court Justice Antonin Scalia as the keynote speaker," said incoming President and longtime DRI Member Jan Spies. Kristin Caruso, CDLA's 2014 Conference Chair, invited Justice Scalia, who did not hesitate to take her up on it, knowing this geographic area of Colorado boasts some of the best outdoor recreation in the world.
CDLA is a statewide organization that is 790+ members strong dedicated to the defense of civil actions and the promotion of fairness and integrity in the civil justice system.