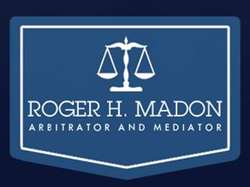 Having worked in the Philippines and Russia enabled me to have a broad view of how international business works. — Roger Maddon
New York, NY (PRWEB) August 29, 2013
New York based mediator and arbitrator, Roger Madon has joined Mediation.com's vast attorney-mediator network to expand his online presence. With 40 years of experience in labor and employment law practice, Madon has completed basic and advanced arbitration and mediation training through Cornell University at the Scheinman Institute on Conflict Resolution, the New York State Bar Association and the Association of the Bar of the City of New York.
"Finding ways to help clients resolve their disputes without going through the court system is my passion," says Madon, who has handled over 2000 arbitrations and administrative hearings. "Since I have 40 years of experience as a civil trial lawyer, I have seen how difficult litigation can be on a person's life, finances and future relationship with the other party. It's something that should be avoided if at all possible."
With concentrations in Labor and Employment Law, Environmental Law and International Business Transactions, Madon has been practicing law in New York City for 40 years, and has appeared before Federal, State and City agencies representing corporations, industrial associations and exempt organizations.
"Having worked in the Philippines and Russia enabled me to have a broad view of how international business works," says Madon, who is also a member of the Labor and Employment Law Section and the Dispute Resolution Section of the New York State Bar Association. "I feel that my experience in business transactions has greatly influenced my appreciation for using mediation as a tool for dispute resolution."
Mediation.com is a resource for both mediators and clients seeking mediation services, connecting the two and providing mediators with an extensive network for professional development and the most recent news related to mediation. With mediators being added daily, the website has become one of the largest listings and resources available for anyone seeking information about mediation services and providers.