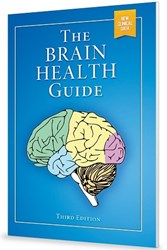 The Brain Health Guide is a tool designed to help keep brains sharp so that any memory lapses that do occur are the laughable kind.
Madison, WI (PRWEB) August 20, 2013
Quincy Bioscience, makers of the nation's leading memory supplement, Prevagen, announces an updated and expanded version of The Brain Health Guide. The new edition is an exclusive source for cognitive health information which provides useful techniques for readers on how to improve their memory.
Research shows that people are living longer than ever before. Major nutritional and medical advancements have been made to help keep the body physically healthy. Quincy Bioscience aims to reduce the mild memory problems that are associated with aging and believes that sharing brain health knowledge supports that mission. The launch of The Brain Health Guide is in effort to highlight the importance of healthy cognitive function and to offer a resource to those interested in enhancing their mind.
As we age, minor memory problems result in more than difficulty remembering. It also leads to an inability to focus, pay attention or stay on task. With increasing age comes increasing stress that can affect the brain. The health of the brain is arguably the most important part of overall health because it controls all organ systems in the body. The Brain Health Guide is a tool designed to help keep brains sharp so that any memory lapses that do occur are the laughable kind.
In The Brain Health Guide, readers will find exclusive facts on brain health, the importance of cognitive ability and how to support better memory and clearer thinking. The latest version of The Brain Health Guide will include:

Updated full-color graphs
New clinical data
Recent testimonials
New lifestyle tips
Quincy Bioscience encourages anyone is who interested in improving their memory skills and overall brain function to take advantage of this great resource. The fourth edition is reader-friendly and offers a wealth of brain health knowledge. The Brain Health Guide can be found at http://www.thebrainhealthguide.com.
About Quincy Bioscience:
Quincy Bioscience is a biotechnology company based in Madison, Wisconsin, focused on the discovery, development and commercialization of novel technologies to support good health in aging. The company's products focus on supporting memory and cognitive health. Quincy Bioscience is set apart by its cutting-edge applications of the protein apoaequorin, which is breaking new ground in the area of brain health.
*These statements have not been evaluated by the Food and Drug Administration. This product is not intended to diagnose, treat, cure or prevent any disease.