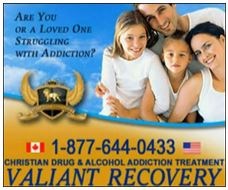 Kelowna, BC (PRWEB) August 21, 2013
Valiant Recovery, a leading alcohol abuse treatment center in British Columbia, now offers patients a holistic approach to treating their addiction. Substance abuse treatment programs are all different and offer different methods to treat addiction. The holistic approach looks at the body as a whole and aims to address all aspects that drive addiction – spiritual, physical and mental, to overcome alcoholism. This holistic approach now offered by Valiant Recovery is one of several methods patients can benefit from when working to overcome their addiction to drugs or alcohol.
Art, equine therapy, physical fitness, anger management, spiritual counseling, stress management, and many other programs allow patients to heal and recover completely, so that alcohol or other control substances are no longer needed or desired. During their time at this alcohol abuse treatment center, patients will be able to tap into the root causes of their behavior and heal their addiction as a whole rather than focusing on individual symptoms.
Among the talented staff of Valiant Recovery specializing in holistic addiction treatment is Dr. Troy – a Chiropractor, trained with a holistic philosophy. Chiropractic is based on the fact that the human body is self-healing and self-regulating. Dr. Troy focuses on ensuring that a patient's own physical innate healing ability is working to its maximum potential. Dr. Troy brings with him five generations of chiropractic knowledge to the alcohol abuse treatment center and a degree from Palmer College of Chiropractic, where the profession started over one hundred years ago.
Focused on the individual and their specific root issues, Valiant Recovery has helped eliminate relapse by addressing these key components. Private counseling and small group sessions designed to address issues such as anxiety, depression, anger, codependency, trauma, boundaries, grief and loss are at the core of this alcohol abuse treatment center. With a supportive, caring, family atmosphere and a maximum of five adult clients at one time, individuals are able to quickly feel a part of this family.
To learn more about the holistic treatment approach at this alcohol abuse treatment center, visit http://www.valiantrecovery.com.
About Valiant Recovery
Valiant Recovery can help patients make their dream of sobriety a reality. Drugs and alcohol do not have to control your life, you can put this part of your life behind you for good when you choose the right program for your substance abuse treatment. A wide variety of options concerning therapy is essential, and Valiant Recovery offers many treatment options. Valiant Recovery is nothing like the usual substance abuse treatment facilities. An elegant and luxurious atmosphere, and a large professional staff that actually cares, also set this rehab far above most. You will get the personal attention and help that you deserve, so you can get back to your life and the really important things like family.