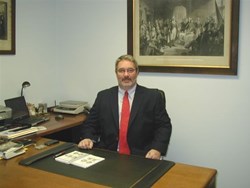 "When Knowledge & Integrity matter most...Deal with a name you can Trust."
Hamburg, NY (PRWEB) August 21, 2013
Buffalo, N.Y. coin dealer John Magavern of Classic Rarities, LLC has purchased a rare low mintage 1801 Draped Bust Silver Dollar in AU50 condition (mtg 54,454). Magavern recently purchased a beautifully toned example of the 1801 Draped Bust silver dollar in almost uncirculated condition. The coin graded out as AU50 by the Numismatic Guaranty Corporation.
All Draped Bust Silver dollars are rare, but the 1801 is a lower mintage piece and when one can be obtained in almost uncirculated condition, it's a significant opportunity. The coin showed just the slightest signs of wear to the high points with amazing old album toning around the edges. Giving it the eye appeal that old time collector desire. Some other recent purchases include a 1793 Wreath cent AU55, 1795 Flowing Hair Silver Dollar AU58, and a Gem 1826 Capped Bust Half Dollar.
These are just a few of many high-quality, early coins Magavern has purchased this year. A long time collector of early U.S. coins, he is a strong buyer of all early U.S. coins from the late 18th century through the early 19th century. He is a life member of the American Numismatic Association & Society of Silver Dollar Collectors, and a member of FUN, CSNS, BNA, NGC, GSNA and PCGS.
Classic Rarities, LLC is a top buyer of all 1964 and earlier U.S. half dollars, quarters and dimes as well as all silver dollars 1935 and before. They also buy U.S. mint products and all key date gold, silver & copper coins, Kennedy halves 1965-1967, sterling and scrap gold. Classic Rarities, LLC deals with a large network of dealers both locally and nationally allowing them to pay top dollar for coins. They offer both timely and professional service with immediate payment.
About the company:
As a Buffalo N.Y. rare coin dealer, John Magavern is well respected both locally and nationally within the numismatic community for honest and professional dealings. Being essentially a one-man operation, Magavern states, "I'm not the largest dealer out there, nor do I want to be! As a rare coin dealer in Buffalo N.Y., my many years of experience have taught me to keep service high and costs low, helping me to pay you more for your coins." Please visit the Classic Rarities website for more information. Being a Buffalo coin dealer serving the western New York area Classic Rarities, LLC is located at 71 Main St. Hamburg, N.Y. 14075 and can be reached regarding the sale of your U.S. coins at 716-863-9099 or http://www.classicraritiesnewyork.com