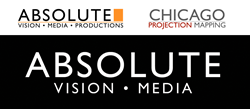 'It's an exciting opportunity to bring these exceptional companies together in a ongoing collaboration. - Mark R. Smith, Owner and Creative Lead for Absolute
Chicago, IL (PRWEB) August 21, 2013
Chicago Projection Mapping, a Chicagoland-based content and 3D projection company, and Absolute Vision Productions, a local Chicago media and production company, announced today the start of an ongoing creative relationship between the two companies under the shared title of Absolute Vision Media Inc.. This transition marks a turning point for the companies, allowing greater collaborate potential in serving top-tier clients.
As a result of this relationship, Absolute Vision Media serves as a shared base for two exceptional media groups. Absolute Vision Productions brings fifteen years of experience in branding, production, and animation, including recent local and national campaigns for Fortune 100 companies. Chicago Projection Mapping, the younger of the two companies, has broken new ground in the midwest with cutting-edge video mapping, creating once-in-a-lifetime event experiences for brands and corporations. By pooling talent and resources, this new relationship ensures that top creative work from the two companies has greater mobility and flexibility to serve the unique needs of a changing industry.
"It's an exciting opportunity to bring these exceptional companies together in a ongoing collaboration." said Mark R. Smith, owner and creative lead for Absolute Vision Media Inc. "This transition has been energizing and exciting for our whole team, and we're excited to share the results."
This collaboration brings the highlights of both companies for current and new clients to Absolute Vision. Interested organizations now have complete access to Absolute Vision Productions's high-end animation, graphics, and scalable media for corporate clients, united with the impact of 3D mapping for large-scale corporate events, brand launches, and social media/grassroots buzz through Chicago Projection Mapping.
For inquiries or a free quote, please email info(at)AbsoluteVisionMedia(dot)com
About Absolute Vision Media Inc.: Based in the near west suburbs of Chicago, Absolute Vision Media is a boutique creative and production group, spanning traditional media, animation, and content with Absolute Vision Productions, and 3D projection mapping, live event production, and 3D video advertising with Chicago Projection Mapping. Absolute supports companies and brands locally and nationally, ranging from the local Schaumburg and Naperville area, to national productions in Los Angeles, Boston, and Minneapolis. For more information, please visit http://www.AbsoluteVisionMedia.com, or call 630-620-0000.