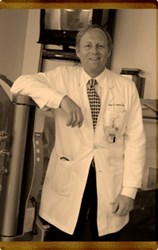 Traveling to destination facilities for specialty medical therapy can be an overwhelming experience for families. RMH-NOLA is an oasis in a sea of unfamiliarity that has provided the comfort and support necessary for a healing experience in our patients.
New Orleans, LA (PRWEB) August 22, 2013
Sat., September 28th 2013
The Hugs and Kisses Chocolate Ball for Ronald McDonald House of New Orleans is an annual benefit to support the NOLA chapter to stay focused on sustaining its growth into the future and extending its impact on the health outcomes of children.
This year's honoree is Paul G. Harch M.D. As a pioneer in the use of hyperbaric oxygen therapy (HBOT) Dr. Harch has developed the protocol for HBOT in the treatment of many neurological conditions, including traumatic brain injuries. Patients travel to see Dr. Harch at The Family Physicians' Center in Marrero from all over the United States, and from all over the world. Many are young children whose families become guests of the Ronald McDonald House Charities of Greater New Orleans for the duration of 40 to 80 hyperbaric treatments as required.
NOLA Love Notes
The Ronald McDonald House of New Orleans has been brightened up with the smiles and cheerful squeals of 4 year old Rusty Webb. He suffered a traumatic brain injury and has been undergoing hyperbaric oxygen therapy (HBOT) treatments at the Family Physicians' Center with Dr. Paul Harch. During his stay at RMHC and treatments, he has developed increased alertness, more use of his left arm and is more verbal. He can say Ma, Yea, Hola and now Dada! & Lately he has started to ride a tricycle & is enrolled in kindergarten. His mom, Angel, would travel from their home in Houston with Rusty each week for treatments while dad Max stayed at home with their first son. Max was comforted knowing that while his family was there, they received meals, transportation and support that would not be available if they were staying in a hotel. Angel added, "The staff at the House do not feel like RMHC employees, but extended family I look forward to seeing. Some of the relationships we've formed will last a lifetime."
This is part of what makes RMHC so special. Our families form bonds and friendships that offer support and comfort while they are going through the most difficult times in their lives. This wouldn't be possible without the support and generosity of our community. Thank you to all who do so much for us.
Isabel and Mariana are three year old twins who were born at 32 weeks, both weighing just over 3 lbs. Isabel was diagnosed with brain injury due to lack of oxygen at birth. Once the girls returned home from the hospital, their parents noticed the difference in development and started Isabel in several types of rehabilitation and therapy, including Katona and Doman therapies. The family heard about the hyperbaric oxygen treatments offered by Dr. Paul Harch and made the decision to travel from their home in Mexico City to New Orleans. Since they have been at the Ronald McDonald House here in New Orleans, everyone has fallen in love with Isabel and Mariana. Isabel's smiles light up the room and Mariana entertains us all when she plays dress-up in our toy room. These are some of the thoughts that Mr. Doval shared with us about their stay: "We appreciate the very human treatment from all members of the House; we feel like family. We are confident that our daughter will improve her quality of life and we are grateful to all who work in the Ronald McDonald House for helping us in the task of bringing up our daughter. We are never going to forget New Orleans and the people that live here." We will never forget the Dovals either!
The House That Love Built
"When families have traveled many miles to receive specialized medical care, looking for temporary accommodations in an unfamiliar place only adds to their stress and anxiety. The Ronald McDonald House not only offers them a place to stay, but a built-in support system where families help each other. Together, they face and overcome some of the most trying times in their lives." – RMHC-NOLA
The Hugs and Kisses Chocolate Ball for Ronald McDonald House of New Orleans features indulgent four-course meal, open bar, auctions, music by At Fault, and chocolate treats throughout the benefit.
For More Information please call 504-486-6668
Visit http://www.rmhneworleans.com for details.
Harch Hyperbarics Inc.
Marrero, LA
http://www.hbot.com