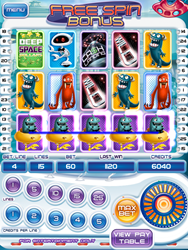 The music is just simply mesmerizing.
Oakland, NJ (PRWEB) August 22, 2013
Deep Space Dollars is an exciting new iPad App - with 25 Win Lines to pick from and a Max Bet of 20,000 Credits, players can decide how much they're willing to risk to free the aliens. The slot game game boasts many great bonusing features to keep you on the edge of your seat, triggering the Alien Bonus lets you try for the BIG WIN while rescuing your alien friends, just watch out for the Black Dragon. Players also get to pick their favorite Space Buggy in the Free Spin Bonus, where lots of Wild Symbols are dropped enabling a maximum win of up to 200,000,000 credits.
The Deep Space Dollars Slot Game is loaded with Exciting Bonuses throughout the gameplay, plus if players run out of credits, they don't have to lay out real $$$ to continue playing the game. Deep Space Dollars also includes integration with Game Center and Facebook to enable players to compete against their friends for top rankings.
Deep Space Dollars includes beautiful illustrations, visual effects and electrifying music produced by BrightLogic's Creative Team. The core slot game engine was developed by the Engineering Team. Given BrightLogic's deep knowledge of the Casino Industry, the slot game was a perfect joint project.
The Deep Space Dollars App includes support for both Non-Retina and Retina iPad Displays, providing crisp, vibrant graphics. Currently, the App is available for iPad 2-4 & iPad Mini, with plans to release an iPhone version soon.
BrightLogic has been developing Hardware and Software for the Casino Gaming and Broadcast Industries since 1985. Primarily focused on Embedded Systems Development, such as the FlashBack2 Mobile DVR for L3 Communications and mission critical software applications for CBS, PBS & NBC. BrightLogic is now venturing into the Interactive Entertainment market and developing experiences such as BrightLogic's new ActiveFloor™ product, the first of which is installed as a permanent exhibit at the Museum of Math (MoMath) in Manhattan, NY.
For more information about BrightLogic, please visit http://brightlogic.com, or visit http://deepspacedollars.com to download the App.