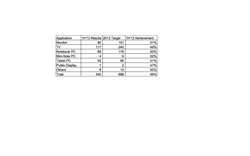 The over-supply of LCD panels that occurred in June 2013 has caused panel makers to be more conservative in their 2013 shipment estimates.
Santa Clara, Calif. (PRWEB) August 21, 2013
Due to recent inventory adjustments and dynamically changed panel demand, display panel makers have provided more conservative estimates for 2013 TFT LCD display-panel shipments and revenues. According to the latest Quarterly Large-Area TFT Panel Shipment Report, total LCD panel shipments (9.1" and larger) reached 340 million in 1H'13, with $37 billion in revenues, which is 49% of the current 2013 target.
Earlier this year, panel makers' 2013 targets totaled 710 million units, but this estimate has since been lowered by 7% to 698 million units. The biggest downward adjustments occurred in LCD TVs, notebook PCs, and tablet PCs. According to David Hsieh, vice president of NPD DisplaySearch, "the over-supply of LCD panels that occurred in June 2013 has caused panel makers to be more conservative in their 2013 shipment estimates." In addition, tablet PC brands have adjusted their outlook for 2013; shipments of tablet PC panels larger than 9" in 1H'13 actually fell compared to 1H'12.
Panel shipment volume is a leading index of many commercial and consumer electronics devices. Device manufacturers tend to enjoy a stronger selling season during the second half of the year. "Achieving nearly half of the 2013 annual target indicates that large-area TFT LCD seasonality has stabilized," Hsieh noted. "Focusing on high-value products with the latest technology, such as 4K×2K, larger sizes, high color gamut, ultra-slim form factor, and environmental concerns, will add more to manufacturer revenues than pure unit-shipment numbers from now on."
The NPD DisplaySearch Quarterly Large-Area TFT Panel Shipment Report covers the entire range of large-area panels shipped worldwide and regionally, with 100% coverage of panel makers. For more information about the report, please contact Charles Camaroto at 1.888.436.7673 or 1.516.625.2452, e-mail contact(at)displaysearch(dot)com or contact your regional NPD DisplaySearch office in China, Japan, Korea or Taiwan for more information.
About NPD DisplaySearch
NPD DisplaySearch, part of The NPD Group, provides global market research and consulting specializing in the display supply chain, including trend information, forecasts and analyses developed by a global team of experienced analysts with extensive industry knowledge. NPD DisplaySearch supply chain expertise complements sell-through information from The NPD Group, thereby providing a true end-to-end view of the display supply chain from materials and components to shipments of electronic devices with displays to sales of major consumer and commercial channels. For more information, visit us at http://www.displaysearch.com. Read our blog at http://www.displaysearchblog.com and follow us on Twitter at @DisplaySearch.
About The NPD Group, Inc.
The NPD Group provides global information and advisory services to drive better business decisions. By combining unique data assets with unmatched industry expertise, we help our clients track their markets, understand consumers, and drive profitable growth. Sectors covered include automotive, beauty, consumer electronics, entertainment, fashion, food/foodservice, home, luxury, mobile, office supplies, sports, technology, toys, and video games. For more information, visit http://www.npd.com and npdgroupblog.com. Follow us on Twitter at @npdtech and @npdgroup.