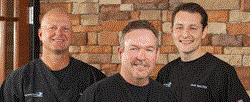 Fort Worth, TX (PRWEB) August 20, 2013
Drs. Terry Zang, Arthur Mund and Justin Mund of Fort Worth Dental now offer pregnant women in Fort Worth, TX a new opportunity to reduce their risk of complications by removing gum disease using a new laser gum disease treatment. Known as Laser Assisted New Attachment Procedure (LANAP), this gum disease treatment uses a laser to hone in on diseased tissue and essentially vaporize the infection. Gum disease is associated with many other complications and, for pregnant women those include low birth weight and premature birth.
Periodontitis is caused by a bacterial infection in the gums. Just like an infection in any other part of the body, it can affect a pregnant woman's baby and should be properly treated to avoid any unnecessary complications. Bleeding gums, swollen gums and persistent bad breath are some of the early signs of gum disease. Pregnant women should know that these symptoms can appear in the first trimester of pregnancy as their bodies experience many changes. Receiving proper and prompt gum disease treatment is the best way to prevent complications down the road.
Bleeding gums are an easy sign of a problem and LANAP makes treating gum disease gentler than ever before. Traditional methods of gum disease treatment were extensive, often requiring multiple visits to the dentist. Full anesthetic, scalpel, sutures, bleeding and pain were all part of the process. With LANAP, there is only a mild local anesthetic used and no scalpel or sutures. The laser is typically not felt at all, except for possibly a mild warming sensation. Additionally, the surgery can be performed in only one visit. Because of the way the laser targets only the diseased gum tissue, all healthy tissue is left intact, unlike prior methods where some healthy tissue was lost in the process as well.
If you have bleeding gums, swollen gums, and a change in your bite or simply wish to discuss ways to reach optimal oral health during pregnancy, the team at Fort Worth Dental invites you to contact them today.
About The Practice
Fort Worth Dental is a general practice offering personalized dental care for Fort Worth, TX patients. Dr. Terry M. Zang, Dr. Arthur J. Mund and Dr. Justin Mund are all dedicated to their dental practice, which offers the recent FDA cleared laser procedure for gum disease treatment. Focused on preventative, restorative and cosmetic dentistry, they each have unique attributes for the practice. To learn more about Fort Worth Dental and their services visit their website at http://www.fortworthdental.com and call (817) 500-0254.