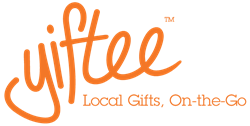 Tempo makes me look good! It's like my calendar and assistant rolled into one, and now I can send birthday gifts throughout the US without ever leaving my calendar...
Menlo Park, CA (PRWEB) August 21, 2013
It's nice to get a "Happy Birthday" post on a Facebook® wall, but isn't a cool t-shirt or an umbrella drink better? Thanks to the new Yiftee-Tempo partnership, launching today, it's now just as easy to send a thoughtful gift as it is to post "Happy Birthday, thinking of you". It's a win for procrastinators and planners alike; in a few clicks, they can send a real gift that their friends receive instantly and can redeem on their special day.
The Tempo Smart Calendar already simplifies busy lives with one-click contacts, directions, messages (running late!), flight status, meeting agendas, conference call dialing and more. Behind the friendly interface lies highly sophisticated artificial intelligence that anticipates users' needs so they are prepared for what's next in their calendar, like friends and family birthdays.
Donna Novitsky, Yiftee CEO and Tempo user, says, "Tempo is like a calendar and assistant rolled into one, and now anyone can send birthday gifts throughout the US without ever leaving their calendar. Imagine a friend's delight when she gets an email or text message saying she received a Sephora gift that she can get right away."
By connecting Facebook to Tempo, friends' birthdays appear in their Tempo calendar, so they are just one tap away from the "send a gift" button, where they can choose a gift, pay with a credit card and send. Being a thoughtful friend could never be easier!
The Yiftee-Tempo integration uses the Yiftee GiftUp™ API. Yiftee envisions a gift-enabled world where people can send thoughtful gifts at local shops and restaurants from wherever they are, giving any website or app similar capability to Facebook™ Gifts. The GiftUp API can be integrated in minutes to allow eGifts to be sent from dating sites, greeting cards, social platforms or others. The Yiftee GiftUp API provides options to send gifts at two million local shops and restaurants throughout the USA using the Yiftee Gift Pass, powered by MasterCard™. Any merchant that takes MasterCard can sell Yiftee gifts.
About Yiftee™, Local Gifts, On-the-Go
Award-winning Yiftee (http://www.yiftee.com) (launched in December 2012) is an exciting new mobile app, Internet service and API that lets consumers send thoughtful, unexpected gifts (many under $20) among friends, family and colleagues quickly and easily via email, mobile and social media. Yiftee gifts are real items that the recipients pick up using their smart phones and tablets at favorite local restaurants and shops, driving profitable business to local merchants. To be featured, merchants simply sign up at https://yiftee.com/enroll_your_business; there is no monthly fee, no commitment, no special technology and no discounting required. Merchants gain additional sales, foot traffic and a free mobile/web sales channel. Please see yiftee.com to give your gift and spread the Yiftee love.
About Tempo AI
Tempo Smart Calendar leverages SRI International's immense investment in artificial intelligence research and semantic technology. Tempo is the newest breakthrough virtual personal assistant that fundamentally changes the way people manage their day. Like a personal assistant, the app anticipates relevant information and surfaces the information right in the calendar when you need it most. By eliminating the need to use multiple apps to cull relevant emails, find contact information, notify attendees if you're running late or get directions to your next event, Tempo makes tackling the day as easy as one tap.