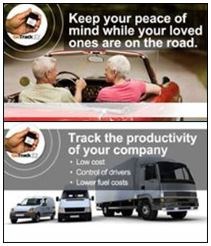 Lee's Summit, MO (PRWEB) August 21, 2013
GoTrack, Inc., a leading provider of fleetmatics, or GPS tracking systems for a businesses' fleet, helps companies save money on their fleet insurance. Because insurance is one of the largest costs that a company can have, this could prove to offer significant savings for many companies.
The appropriate use of the fleet tracker enables business owners to not only track the whereabouts of each of their trucks, vans or cars, but some products also allow them to track their employees' driving habits. This information enables business owners to enlist the necessary training or coaching to help improve the safety and reliability of their fleet on the road. This results in a lower risk for insurance companies which is portrayed in the discount that some companies are now offering.
Promoting safe driving is one of the largest benefits that an insurance discount through the use of fleet tracking devices could provide. In order for companies to qualify for the discount, they need to prove that they have not only installed the fleet GPS tracking system on a majority of their vehicles, but they also need to prove that they are using it to its fullest potential. This means that business owners are proactively using the GPS tracking software to determine how their drivers are performing and how they could improve to increase their safety on the road.
GoTrack offers high quality fleet tracking devices that essentially plug right into the intended vehicles and require no long-term contracts for airtime. The data that is collected is secure and can only be accessed by the owner of the unit through the use of a protected ID and password. The GoTrack GPS tracking device is the first step in making the road a safer place as well as a way to help companies save on one of their largest expenses.
Anyone interested in more information about the GPS tracking systems that GoTrack has to offer can visit them at http://www.gotrack.com/.
About GoTrack: GoTrack is an automobile tracking company that enables customers to track personal and commercial vehicles. Giving customers the ability to track vehicle data in real-time has helped countless parents, children of the elderly and business owners to have constant access to their vehicles or their loved ones. GoTrack was founded in 2001 and has always prided itself on its low-cost, yet high efficient offerings of GPS tracking software to help make the roads a safer place.