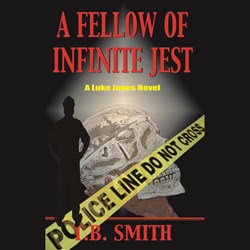 His stories are from an insider perspective and they really resonate with people, especially those working in law enforcement—garnering rave reviews.—Charity McGregor, Downpour.com Publicist
Ashland, OR (PRWEB) August 22, 2013
Author and retired San Diego police lieutenant T. B. Smith talks with Downpour.com about his latest Luke Jones novel, "A Fellow of Infinite Jest." Smith shares in this interview with Downpour how his twenty-seven-year career as a police officer led into writing and became the basis for main character Luke Jones. He gives insight into the storyline and the impact of real life events that cross over into his writing. "A Fellow of Infinite Jest" is book two in the Luke Jones series, which follows a cop from rookie to retirement, and Smith discusses with Downpour the importance of character development in his series. The audio format of "A Fellow of Infinite Jest" will be published by Blackstone Audio, Inc., and available in early 2014 on Downpour.com.
"T. B. Smith talks candidly about the gritty reality he writes of in his novels, sharing a window into his real life as a cop," said Charity McGregor, Downpour.com Publicist. "His stories are from an insider perspective and they really resonate with people, especially those working in law enforcement—garnering rave reviews." Smith also shares his influences, love of Shakespeare and his enjoyment of audiobooks in this interview conducted by award-winning narrator Malcolm Hillgartner.
"We are very excited to have 'A Fellow of Infinite Jest' available on Downpour.com and we have been working with Smith's publicity and marketing team to offer a great deal associated with the first book in the Luke Jones series via Downpour.com," said Jay Tapp, Blackstone's Head of US Marketing.
"A Fellow of Infinite Jest" picks up with unconventional police rookie Luke Jones back at work. His latest challenge: San Diego's citizens are reeling from a plane crash that resulted in the deaths of 144 people. Now disaster lurks in two parts of the city, and Luke must choose which situation needs his attention first. One could cost him the life of a friend. The other could get him fired—or killed.
"A Fellow of Infinite Jest," by T. B. Smith, will be available in early 2014 on Blackstone's retail site, Downpour.com.
ABOUT T. B. SMITH
T. B. Smith served as a police officer for twenty-seven years with the City of San Diego and San Diego Unified School District police departments. He retired as a lieutenant in 2003 after being injured in an on-duty traffic accident. He is a graduate of San Diego State University, where he studied English literature and creative writing.
ABOUT DOWNPOUR.COM
Downpour.com is an audiobook retailer offering tens of thousands of the best audio books as digital downloads or on CD and MP3 CD. Downpour.com is an ecommerce subsidiary of Blackstone Audio, Inc., the producer of high-quality audiobook entertainment since 1987 and the largest independent audiobook publisher in the US. Blackstone merged with AudioGO, the home of BBC Audiobooks, in December 2012 and combined as Blackstone Audio, Inc. It is now one of the leading publishers of distinctive single-voice and full-cast dramatization audio books in the world, with thousands of new titles added each month from various top publishers to its retail site Downpour.com.
For more information about this topic or to schedule an interview please contact:
Jay Tapp, Head of US Marketing, Phone: 541-488-6035, Ext. 63
Blackstone Audio, Inc. | Downpour.com
Thank you for your interest.