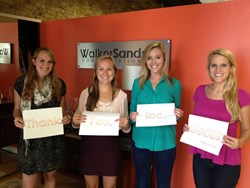 Chicago (PRWEB) August 20, 2013
Inc. Magazine today ranked Walker Sands, a public relations and digital agency for B2B and technology companies, no. 1483 on its seventh annual Inc. 500|5000, an exclusive ranking of the nation's fastest-growing private companies.
Walker Sands is a Top 100 Illinois Company and is the 78th fastest growing company in Chicago among all Inc. 500|5000 companies.
This list is the most comprehensive benchmark of America's independent entrepreneurs—a vital component of the U.S. economy. With a median growth rate of 142 percent, the 2013 Inc. 500|5000 companies report having created over 520,000 jobs in the past three years, and aggregate revenue among the honorees reached $241 billion.
Walker Sands has grown tremendously since 2009, increasing revenue 325 percent and headcount by five fold. Much of this growth is credited to the agency's integrated approach to public relations and exclusive focus on supporting B2B and technology clients, ranging from early-stage startups to large Fortune 500 enterprises.
"It's an honor to be recognized among the fastest-growing private companies in the U.S.," said Mike Santoro, president of Walker Sands. "We've expanded our team and offices while focusing on driving business growth for our B2B and technology clients."
In 2012 and 2013, Walker Sands launched a number of well-received PR campaigns for prominent tech brands, including Cisco Systems and HarperCollins.
Cisco Systems partners received more than 140 media placements and 500 incoming leads after Walker Sands designed an educational and lead-driving PR campaign. Participating Cisco partners learned how to incorporate good public relations tactics into their marketing initiatives through a series of instructional videos and webinars. The campaign also included a survey and whitepaper on the implementation of BYOD in the workplace and high-profile placements in target publications like The Wall Street Journal, Forbes, CIO Magazine, Fox News TV and more.
The agency also supported the launch of all of HarperCollins' digital apps in North America, including Wonders of the Universe. The Wonders of the Universe product launch campaign resulted in more than 81, 000 downloads of the app and 90 media placements, including The New York Times, Mashable, Engadget, MSNBC and Discovery Channel's Discovery News. The app was included in top apps of 2012 lists in 148 Apps (Best App Ever Awards: Most Innovative nomination), iMore (Editor's Choice: Education App of the Year), iPad Insight (Best iPad Reference Apps) and Tech Radar (Top 230 Best iPad Apps of 2012).
"Not all the companies in the Inc. 500|5000 are in glamorous industries, but in their fields they are as famous as household name companies simply by virtue of being great at what they do. They are the hidden champions of job growth and innovation, the real muscle of the American economy," says Inc. Editor Eric Schurenberg.
This recognition follows several other notable award wins for Walker Sands, including Publicity Club of Chicago Golden Trumpet, PRSA Skylines and PR News Small Agency of the Year.
Complete results of the Inc. 500|5000, including company profiles and an interactive database, can be found at http://www.inc.com/5000. Walker Sands Inc. 500|5000 listing can be found at http://www.inc.com/profile/walker-sands-communications.
Methodology:
The 2013 Inc. 500|5000 is ranked according to percentage revenue growth when comparing 2009 to 2012. To qualify, companies must have been founded and generating revenue by March 31, 2009. They had to be U.S.-based, privately held, for profit, and independent—not subsidiaries or divisions of other companies—as of December 31, 2012. (Since then, a number of companies on the list have gone public or been acquired.) The minimum revenue required for 2009 is $100,000; the minimum for 2012 is $2 million. As always, Inc. reserves the right to decline applicants for subjective reasons. Companies on the Inc. 500 are featured in Inc.'s September issue. They represent the top tier of the Inc. 5000, which can be found at http://www.inc.com/inc5000.
About Walker Sands:
Walker Sands is a full-service marketing and public relations firm specializing in media relations for B2B and technology companies ranging from startups to enterprise level. With offices in Chicago and San Francisco, Walker Sands was founded in 2001 to provide marketing support for a wide array of companies with the business mission of providing best-in-class communications counsel and services. In 2012, Walker Sands was named a PR News and Bulldog Reporter finalist for Small Agency of the Year. To learn more, visit Walker Sands.