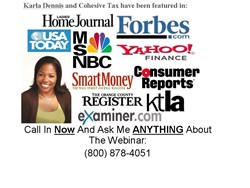 "I don't have enough words to describe the respect I have for Karla, except to say that I am fiercely proud to know her and to call her, friend"
~ Loral Langemeier
(PRWEB) August 20, 2013
Karla Dennis, Enrolled Agent and CEO of Cohesive, most recently featured in Forbes Magazine, will record a special online event: "How To Pay Little To No Federal income Tax!" The live event will be revealed to the public starting on Thursday, August 22nd 2013.
Click Here Now To Register And Listen!
Karla has saved her clients millions of dollars in taxes in just the last year - learn how.
Karla strategizes by sharing points of note for restructuring your tax situation and seeking out the little-known methods that can help anyone significantly reduce the federal income taxes they pay.
There are two things in life that are guaranteed and taxes are one of them. There is no guarantee that taxes will be reduced to absolutely nothing, but everyone who watches will learn how federal income taxes can be significantly lowered by using the tax code legally.
Anyone who would like to minimize their 2013 tax bill before year end is absolutely invited to attend.
Learning the steps to take will further reduce taxes fro 2014 and beyond!
The webinar revelation will begin on Thursday August 22nd at 1:00pm Pacific (4:00pm Eastern) and will be available to the general public afterwards. Join and listen live and see what someone who knows the tax code inside out can show you.
Join Karla for about 30-45 minutes.
Click Here Now To Register And Listen!
Karla Dennis is CEO and owner of Cohesive Tax™, a tax planning firm.
Karla is actively sought as a tax expert by the media and has been quoted by Smart Money, CNBC, Consumer Reports and MSNBC. She actively speaks to various business leaders, executive organizations, trade groups, community factions and civic gatherings, and area Chambers of Commerce.