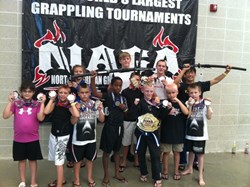 " I've been teaching these children for a while now and they've been improving at a fast pace. "

- Tim Spriggs, Jiu Jitsu Brown Belt
Baltimore, MD (PRWEB) August 20, 2013
Starting September 1st, Crazy 88, a professional Mixed Martial Arts gym located in Howard County Maryland, will be adding a competition class to the schedule to add to the intensity of their children's program.
Crazy 88 BJJ has established itself as being one of the premier locations in regards to developing young children into future martial arts champions. Children at Crazy 88 who have shown discipline and focus throughout their first four months at the school are then invited into a particular group of like-minded children known as Black Belt Club. In Black Belt Club the training is more structured and ran like an adult class with particular interest given on sparring and more advanced techniques for the children.
The Saturday morning class is typically a No-Gi class for all of the children that participate in the invite only program. In September, this class will change to feature the kids that are competition oriented. With this change the hope is that the children will come to class with the focus needed to raise the intensity within the room. The children in Black Belt Club this past year have captured many titles and medals at local competitions such as NAGA and The Good Fight.
Brown Belt Medal Chaser and kids instructor Timmy Spriggs stated, "I've been teaching these children for a while now and they've been improving at a fast pace. Each and every class they only want to spar and roll at full speed, so I'm excited to have a class that is going to enable them to go after it for a full hour!"
For more information on Mixed Martial Arts classes at Crazy 88 - Elkridge, be sure to check out the website at http://www.BaltimoreMixedMartialArts.com or visit 7024 Troy Hill Dr, Suite L, Elkridge MD 21075.