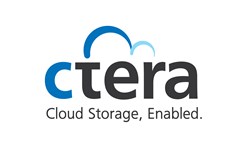 Petach Tikva, Israel, and Palo Alto, Calif. (PRWEB) August 21, 2013
CTERA Networks, the leader in cloud storage enablement, will demonstrate its cloud storage solutions in the Savvis, a CenturyLink company, booth at VMworld 2013 on August 26-28, 2013 at the Moscone Center in San Francisco.
CTERA's cloud storage is a combination of cloud-side management software and on-premises cloud storage gateways and end point agents, which enables cloud providers, such as Savvis, to leverage their storage infrastructure to deliver scalable, highly secure cloud storage services including file sync and share, managed ROBO storage, hybrid backup and secure mobile collaboration.
VMworld 2013 attendees can stop by the Savvis booth to learn more about CTERA's Cloud Storage Enablement suite.
WHEN: Monday, August 26 – Tuesday, August 27 from 11:00 a.m. to 6:00 pm PT
Wednesday, August 28 from 10:00 a.m. to 5:00 p.m. PT
WHERE: VMworld 2013, Moscone Center, San Francisco at Savvis Booth #1621
About CTERA Networks
CTERA Networks is the leader in cloud storage enablement, revolutionizing storage, data protection and collaboration for enterprises and SMBs. Its Cloud Attached Storage® architecture combines secure cloud storage services with on-premises appliances and managed agents. CTERA pioneered the cloud storage gateway concept, with tens of thousands of units deployed, and its scalable cloud service delivery platform is used by leading service providers and enterprises, on the public or private cloud infrastructure of their choice. For more information, visit http://www.ctera.com. Follow CTERA on Twitter: http://www.twitter.com/CTERA
Media Contact
CTERA Networks
Nathan Beers
Schwartz MSL
415-512-0770, ctera(at)schwartzml(dot)com