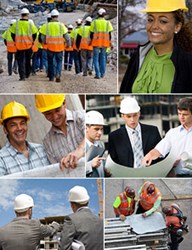 The number of jobs posted on Construction Connection has increased by more than 100% in the last year… We want to make sure people in our industry know that these types of jobs are available again and where to go to find them.
Austin, TX (PRWEB) August 22, 2013
The online community-based website ConstructionConnection.com announces an exciting trend towards an increase in the number of available construction jobs across the US. The number of available jobs on Construction Connection right now is at the highest it has been since the site's inception in 2011. In light of this growth, Co-Founders Suzanne Breistol and Kent Leighton are launching an initiative to bring even more qualified candidates to the Construction Connection community of over 49,000 registered members.
While the US Bureau of Labor Statistics has not yet reported a large increase in employment in the construction industry, Construction Connection has seen a significant increase in the number of available jobs posted on their site in the summer of 2013. This increase is also reflected in a recent report from Wanted Analytics, which indicates a 27% year-over-year increase in available construction-related jobs when compared to 2012, and a 155% increase from four years ago.
"The number of jobs posted on Construction Connection has increased by more than 100% in the last year," Leighton explains. He adds, "A majority of these job postings are for high-level management positions like project managers and contractors. We've also seen a huge increase in the number of jobs for skilled trades, like carpenters, concrete finishers, electricians, plumbers. We want to make sure people in our industry know that these types of jobs are available again and where to go to find them."
Companies are encouraged to use Construction Connection's patent-pending job-matching tool for all levels of hiring, from foremen to branch managers. The tool matches qualified candidates to jobs for which they are best suited and have the necessary skills and training. This leaves companies with a manageable number of experienced applicants whose expertise is in the construction industry, whereas other general job sites do not always make distinctions based on industry. As the construction industry was among the hardest hit in 2008 with hundreds of thousands of people losing their jobs, the industry-specific site also serves as a welcoming community network where professionals can find educational resources, tips and business solutions from leading experts and avoid searching through jobs that are unrelated to their field.
"The housing market is still recovering in some regions of the country, but here in Texas and in Florida, New York, Colorado, California, the Midwest and the Southeast, we're seeing an increase in demand for residential and commercial construction projects. With these new projects in the bidding stage, small and large construction companies have to hire more employees to meet this demand. We are working to let people to know the jobs are out there, and they need to join our community so that companies can find them," says Leighton.
As two long-time veterans of the construction industry, Leighton and Breistol are proud of their industry's comeback and excited to see an expansion of new building projects. Through their efforts to recruit more top-tier talent to their construction community and to match more people with the right jobs, the team is working to get the construction industry back on track and hope to see continued growth in 2014.
Construction Connection was created out of a need for a more effective and streamlined way for construction industry professionals to get matched with the right industry jobs and with the right industry opportunities. The partners of Construction Connection listened to both company and individuals' dissatisfaction with the traditional job boards, the paid resume blasts, the overpriced resume services and overall lack of sympathy toward the individual candidate. They listened to the dissatisfaction from companies who post jobs only to get many irrelevant results or having to purchase high priced ads to showcase their company. Construction Connection is a patent-pending, one-of-a-kind profile creating / match-making system. The system delivers effective results. Construction Connection saves you time, money and aggravation by matching people to people, people to companies, companies to people, and company to company.