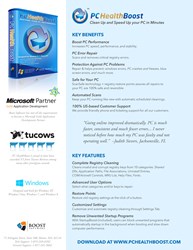 Few registry cleaners really did what they were supposed to, and we wanted to change that.
Boston, MA (PRWEB) August 21, 2013
Boost Software plans to release its Microsoft Pinpoint Success Story video about PC Health Boost in about six weeks. This video testimonial details how Microsoft Pinpoint has benefited Boost Software.
Erin Walsh, Director of Public Relations for Boost Software, said that Pinpoint helped the company to serve even more customers in need of the PC optimization software. They received over 50,000 on the Boost Software Microsoft Partner membership profile page since December 2012, and that pushed them up to the Silver partnership level.
Since then, several unique visitors converted into buyers who started using PC Health Boost to clean Windows installer errors. New customers said the software helped them speed up PC performance, and now they use it for regular maintenance. On June 26, 2013, Boost moved up to Gold Partner status as a result of their continued dedication to their customers.
"We are proud to have our names attached to it," said Peter Dunbar. He and Boost Software Co-Founder Amit Mehta worked for over three years on PC Health Boost before releasing it to the public.
"Few registry cleaners really did what they were supposed to," said Mehta. "We wanted to change that." Mehta also says his company aspires to make computer maintenance as easy as possible for people. The company releases regular updates, and offers 24/7 phone and email support.
Boost Software will display the completed PC Health Boost video on their Pinpoint page. Customers may also see it on related Microsoft user forums, review pages and company landing pages.
Amit Meta and Peter Dunbar founded Boost Software in 2009, after selling similar computer software online. The company has its home office in Boston, with a development office in Poland. The company provides 24/7 support for Windows installer errors, as well as a multitude of other problems. To find out more, visit http://www.BoostSoftware.com.