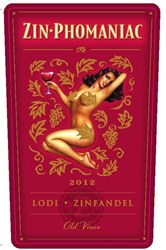 Zin-phomaniac is for Zinfandel lovers who can't get enough of this seductive and tantalizing varietal.
Petaluma, California (PRWEB) August 21, 2013
OFFbeat Brands has launched Zin-phomaniac, a provocative Zinfandel sourced from old Zinfandel vines in Lodi. Featuring original artwork that evokes the classic "Pin-Up Girl" posters of an earlier era and bearing the tag line "When you just gotta have it," Zin-phomaniac pushes the envelope with a plush, full-bodied wine, sexy packaging and titillating back label copy. The wine retails for $18.99 (SRP) per 750m. bottle.
"As the name implies, Zin-phomaniac is for Zinfandel lovers who can't get enough of this seductive and tantalizing varietal," says Mike Kenton, founder and CEO of OFFbeat Brands. "Our original retro-looking artwork, suggestive copy and most importantly, the quality of the wine are all geared towards the Zinfandel-obsessed consumer."
Zin-phomaniac is a blended Zinfandel sourced from multiple sub-appellations within Lodi, one of the California appellations most closely associated with Zinfandel and the "self-proclaimed Zinfandel Capital of the world producing over 40 percent of California's premium Zinfandel."* Crafted by Winemaker Carolyn Craig, the wine was sourced from some of the Lodi region's renowned "old vines," vines that range in age from 20 to 75 years old.
Zin-phomaniac joins OFFbeat Brands' growing portfolio of wines targeting Millennial, Generation X and Boomer wine consumers in the U.S. Jellybean Wines, the company's innovative line of fruit-forward, internationally sourced varietal wines, has quickly gained national distribution since the brand's launch in May 2012, as has Slices Sangria, OFFbeat's line of authentic, premium Sangrias from Spain, introduced later the same year.
"Both Jellybean Wines and Slices Sangrias are hitting a nerve with wine consumers looking for authentic, approachable wines with creative, emotionally-appealing packaging," says Kenton. "Zin-phomaniac takes this overall concept and caters to the Zinfandel lover, adding another dimension to our innovative and differentiated portfolio."
About OFFbeat Brands
Founded in 2012 by wine industry executive and entrepreneur Mike Kenton in partnership with European wine executive Xavier Batlle, OFFbeat Brands comprises wine brands created and wholly-owned by the company, including Jellybean Wines, Slices Sangria and Zin-phomaniac. OFFBeat Brands is based in Petaluma, California with offices at 1304 Southpoint Boulevard, Ste., 240, Petaluma, CA 94954. Phone: (707) 897-3001. The company website can be found at http://www.offbeatbrands.com.
Contacts:
Mora Cronin, Cronin Communications, moracronin(at)Comcast(dot)net , (707) 227-2641
Lindsey Stone, OFFbeat Brands, Lindseys(at)offbeatbrands(dot)com, (707) 200-2213