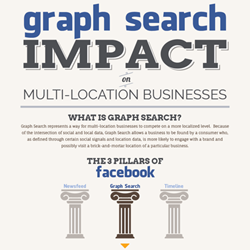 The introduction of Facebook Graph Search on January 15th, 2013 marked an inflection point in the world of search and search marketing.
Anaheim, CA (PRWEB) August 21, 2013
In a new report published today by Where 2 Get It, the local digital marketing agency explores the impact that the first six months of Facebook Graph Search has had on several of its clients ranging from national QSRs to regional apparel and shoe retailers who operate multi-location businesses. The White Paper is available for free download through their various social media profiles including Facebook, LinkedIn, Google+ and Twitter as well as on Where 2 Get It's website.
In the report, Where 2 Get It explains: "While Facebook may not be the first place customers think to go for local business information yet, several signs point to the fact that Graph Search will soon be a go-to directory for local mobile discovery. To that end, if optimized correctly, we believe Graph Search represents a way for multi-location businesses to compete on a more localized level."
The White Paper calls the January 2013 release of Graph Search "an inflection point in the world of search and search marketing." Following a brief history and detailed description of Graph Search, the report discusses several ways in which national brands can effectively optimize their Facebook marketing strategies to reach their audiences on a localized level. Topics discussed include: Facebook's Parent-Child claiming mechanism and it's effect on reach and the importance of data accuracy for local discovery and visibility.
Recent statistics reported by Facebook during their quarterly earnings releases support this theory. In the 4th quarter of 2012, mobile daily active users (DAUs) exceeded those on the web for the first time in Facebook's history. Facebook's mobile monthly active users has almost tripled since 2011 topping 800 million by Q2 of 2013. In addition, Facebook recently reported that nearly 18 million local businesses now have a Facebook Business Page.
Like Where 2 Get It on Facebook and access the free White Paper today!
Where 2 Get It was founded by CEO Manish Patel in 1997 and has since grown into an industry-leading provider of location-based digital marketing solutions powering more than 550 brands. Serving more than 500,000 bricks-and-mortar locations, Where 2 Get It has channel strength that reaches millions of consumers around the world. Patel has lead Where 2 Get It in developing local marketing solutions that include scalable Local SEO, local advertising, mobile-local technologies, local-social marketing tools for brands, and more.