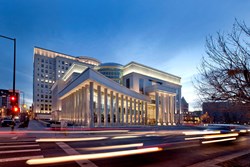 Denver, Colorado (PRWEB) August 20, 2013
Mortenson Construction announces it has been selected as the Top Contractor of 2013 for Colorado by Engineering News-Record, one of the commercial design and construction industry's most well-known and respected publications.
Mortenson's selection as the state's Top Contractor was determined by a panel of editors from Engineering News-Record, who reviewed nominations from the industry as well as corporate and project information supplied by candidates.
"We are delighted to be named Top Contractor for 2013," said Maja Rosenquist, vice president and general manager of Mortenson's Denver office. "The competition is intense, so it is an honor to be named among the best," she added.
Mortenson is currently building several high-profile projects in the region including the 831,000-square-foot Exempla Saint Joseph Replacement Hospital, the 495,000-square-foot Byron G. Rogers Federal Office Building Modernization, and an 86,000-square-foot addition and renovation for the Rocky Mountain Lions Eye Institute. Mortenson recently delivered the 695,000-square-foot Ralph L. Carr Colorado Judicial Center two months early and is the lead contractor on the tri-venture team building Denver International Airport's South Terminal Redevelopment Project.
About Mortenson Construction
Serving Colorado for more than 30 years, Mortenson Construction is a U.S.-based, family-owned construction company. Founded in 1954, and recognized as one of the nation's top builders, Mortenson provides a complete range of services, including planning, program management, preconstruction, general contracting, construction management, design-build, and turn-key development. Mortenson has offices in Denver, Minneapolis, Seattle, Milwaukee, Chicago, Phoenix and Portland with international operations in Canada and China.
###